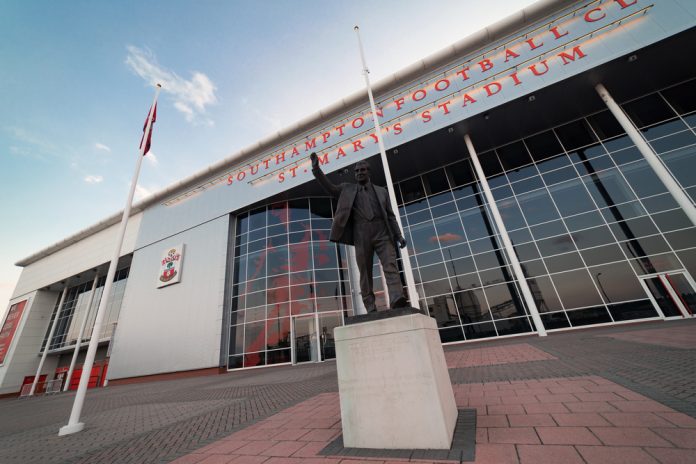 Premier League club Southampton FC has reunited with sportswear brand Hummel, penning a new five-year agreement with the manufacturer.
Hummel manufactured Saints' kits between 1987 and 1981, including the famous 1987/88 design which was based on Denmark's 1986 World Cup kit, and the two enjoyed a successful partnership.
As part of the deal, which commences in July 2021, Hummel will produce match, training and travel apparel for the men's, women's and academy teams, along with a comprehensive retail offering.
"From the moment we first met the Hummel team it was obvious there was a great connection between us, not only because of our past history, but also because of the potential of what we could achieve together in the future," explained Southampton's Chief Commercial Officer, David Thomas. 
"Hummel's core mission of wanting to change the world through sport aligns perfectly with our disruptive approach to how we behave on and off the pitch.
"We hope these shared values will create a unique partnership that not only produces great kits for our players and fans but also redefines the positive impact two like-minded organisations can achieve together."
According to a joint statement released by the club and the Danish brand, the collaboration will pave the way 'for a better tomorrow by creating positive change through sport' as Hummel's vision 'aligns perfectly with the club's own mission of turning potential into excellence on and off the pitch'.
Allan Vad Nielsen, Hummel's CEO, added: "After 30 years apart, we're extremely proud and honoured to be back as an official partner of Southampton FC.
"Football is ingrained in our brand DNA at Hummel and the partnership with Southampton represents another huge step of our ambitious growth plans and expansion internationally.  
"Southampton has continuously proven its pioneering and innovative approach in the game and along with its strong values and history, this is a perfect fit for Hummel. Together, we share the same values of turning potential into excellence on and off the pitch, and we are truly looking forward to working with the club on future product collections and fan activations."
As a result, Southampton has agreed to mutually terminate its contract with Under Armour at the end of the 2020/21 campaign, bringing to an end a four-year association with the American sportswear brand.
In September, Under Armour opted to cancel its contract with the Welsh Rugby Union (WRU) four years early, stating that it had shifted its focus from teams to individual athletes. The WRU sought out Macron as the replacement sponsor for Welsh national teams.