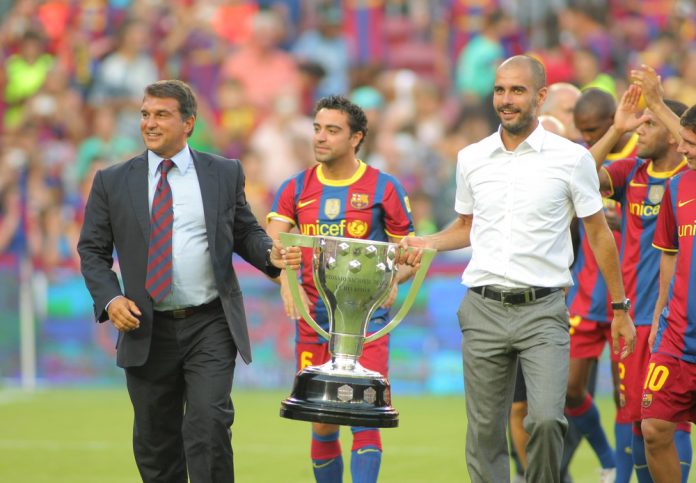 Joan Laporta has been elected as the new FC Barcelona President for a second spell, seeing off competition from the likes of Victor Font and Toni Freixa.
Laporta, who held the position between 2003 and 2010, garnered more than 54% of the vote, compared to Font who won 29.99% and Freixa who won just 8.58%.
During Laporta's previous reign, the La Liga club won the treble under Pep Guardiola, claiming 12 trophies, including two Champions League titles and four La Liga titles.
He will succeed former Barcelona President, Josep Maria Bartomeu, who stepped down from the role in October last year amid the 'Barcagate' controversy.
Last week, Bartomeu, among three other club executives, were arrested as part of a new development after Catalan police paid the Nou Camp a visit to retrieve documentation as part of the ongoing investigation.
Presidential candidate Freixa revealed on Friday that he had lined up the 'highest sponsorship in the world of football' for the La Liga club which is in more than €1 billion of debt, according to Spanish news reports.
The agreement with an unnamed firm was said to be worth around €60 million per season and according to the report, the 52-year-old was also forming the deal so that the club only had to wear branded shirts at away fixtures.
"We have been negotiating with this sponsor for some time, it's a Hong Kong-based company and it would be effective from the 2022/23 season," Freixa told Spanish news outlet Marca.
"This sponsorship would allow us to play at the Camp Nou without any advertising."
Japanese ecommerce business Rakuten currently serves as the European giant's main sponsor with the deal – estimated to be worth around €55 million per year – due to expire at the end of the 2021/22 season.
Furthermore, top flight Spanish clubs could lose out on more than €1 billion in revenue this season, should the spectator ban remain in place.
A PwC financial assessment into La Liga's finances found that Spanish teams have lost out on more than €2 billion in total income during the 2019/20 and 2020/21 seasons. However, sponsorships saw a five percent growth during that period, with a number of deals offsetting the figure.
Laporta's main pledge, on the other hand, was to keep Barcelona star Lionel Messi at the club, who turned out to vote for the 58-year-old.
"Seeing Leo [Messi] go to vote, the best player in the world, voting with his son, for me, this shows what we've said all along, that Leo loves Barca, that we are all a big family," Laporta said on Sunday evening. "Hopefully that helps him to stay which is what we all want."