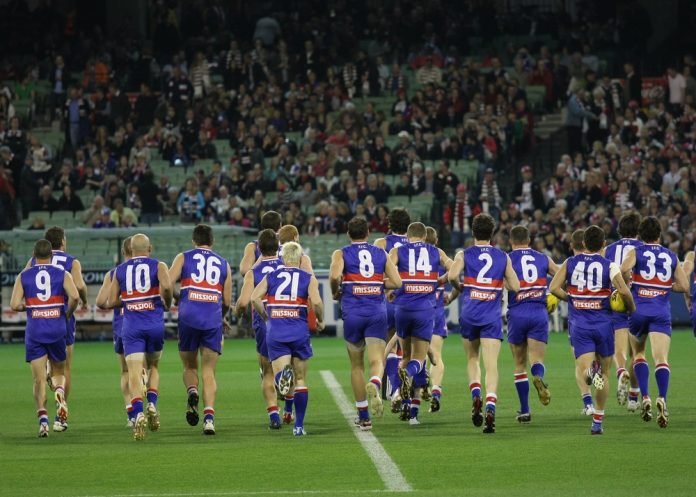 The Western Bulldogs of the Australian Football League (AFL) has formed a 'groundbreaking' partnership with cryptocurrency exchange CoinSpot.
The partnership marks the first time a crypto-exchange has partnered with a professional sports team in Australia, and will remain in place until the end of the 2021 season, with an option to extend.
Under the terms of the agreement, CoinSpot branding will feature prominently on the back of the Bulldogs' AFL guernsey and on the team's media backdrop.
"It's really pleasing for the Club to have secured a partner for the back of our Bulldogs guernsey for the remainder of the 2021 season, and hopefully beyond. We're excited about the journey we're starting with CoinSpot," said Bulldogs CEO Ameet Bains.
"CoinSpot is an innovative, forward-looking business which is entrenched and trusted in the world of cryptocurrency. We're excited by the aspirations and overall mindset to progress that we share, and the obvious capacity for us to work together for the betterment of both businesses.
"It's an exciting time for the football club both on and off the field, and our new partnership with CoinSpot helps put us in an even stronger position heading into the future. I'd like to particularly commend our commercial partnerships team, led by Nick Truelson, for its relentless efforts in working to secure a partnership of this magnitude for the Club."
Established in 2013, CoinSpot is Australia's largest cryptocurrency exchange with over one million users in the country, trading a range of coins including Bitcoin. The firm focuses on 'simplicity and easy access; for Australians interested in learning about and leveraging blockchain technology.
Russell Wilson, CEO of Conspot, said: "CoinSpot is proud to be partnering with the Western Bulldogs, who are in the midst of an exciting time in the Club's history for this season and the future.
"We share the same values as the Bulldogs, and we can't think of a better club to align with. Seeing the CoinSpot brand on the back of the jumpers is an awesome feeling for us and the cryptocurrency space as a whole.
"Much like the Western Bulldogs' recent ongoing success, CoinSpot is continuing to kick goals and has big plans for the future."
Cryptocurrency as both a form of payment and a mode of fan engagement has become increasingly commonplace in sports over the past year, as mainstream acceptance of blockchain continues to rise.
UK football clubs Southampton and Swansea City have both formed crypto-based partnerships with Sportsbet.io and Mercuryo respectively, whilst in February Turkish basketball club Beşiktaş JK signed a sponsorship deal with crypto-exchange Icrypex, paid for entirely using Bitcoin.