Celtic FC will make its first foray into motorcycle racing at next month's Macau Motorcycle Grand Prix, having joined forces with international road race winners Dafabet Devitt Racing.
Both the seven-in-a-row Scottish champions and the multiple Isle of Man TT-winning race team are sponsored by online betting company Dafabet, and will use the event to promote the Glasgow club in the Far East where they already have a huge following.
Brainchild of Dafabet Devitt Racing's Danny Horne, the team's Kawasaki ZX-10RR Superbike, set to be piloted by the North East rider Dominic Herbertson, will feature a unique and striking livery with their traditional racing colours being replaced by the famous green and white of Celtic FC.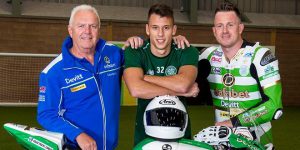 The livery will include the club's famous logo and is sure to gain huge interest from both the thousands of race fans at the circuit and with the millions of worldwide television viewers.
The Celtic bike has been built initially to be used in Macau Grand Prix next month, but will also be used in subsequent races throughout the season.
Team owners Roy and Ben Constable have always had an immense passion for bikes, and this passion resulted in them fulfilling a dream in 2012 when they formed their own race team. They enlisted the considerable talents of Dean Harrison, who went on to give them their first Isle of Man TT victory in 2014 as well as becoming the first newcomer to record a lap of 130mph+ at the Ulster Grand Prix.
Harrison left the team in 2015 and was replaced by Ivan Lintin, who ensured the success story continued with successive victories in the Lightweight class at the Isle of Man TT Races in 2015 and 2016, thus making it three-in-a-row for the team. He also became the first rider to lap the world famous 37.73-mile Mountain Course at more than 120mph on a Lightweight machine.
Head of marketing for Devitt Insurance Tom Warsop commented: "We're thrilled to be part of the project and think the Celtic Bike looks fantastic. The team are always looking for ways to innovate and work with amazing brands, which in turn, helps to promote Devitt as a leading bike insurance provider."
John Cruces, head of sponsorship and marketing for Dafabet, emphasised: "We're delighted to bring together two of our partners with this project, which we believe can only benefit all concerned.
"The bike looks absolutely stunning and is genuinely groundbreaking. We look forward to seeing the bike in action and wish Dominic the very best of luck."
Gordon Kaye, Head of business development at Celtic, added: "Dafabet have once again shown what can be achieved through an innovative approach to sports partnerships. We are delighted that the club crest will have pride of place on the Dafabet Devitt bike and we look forward to supporting Dominic and his crew as they sport the Hoops and Celtic training wear for the remainder of the race season."