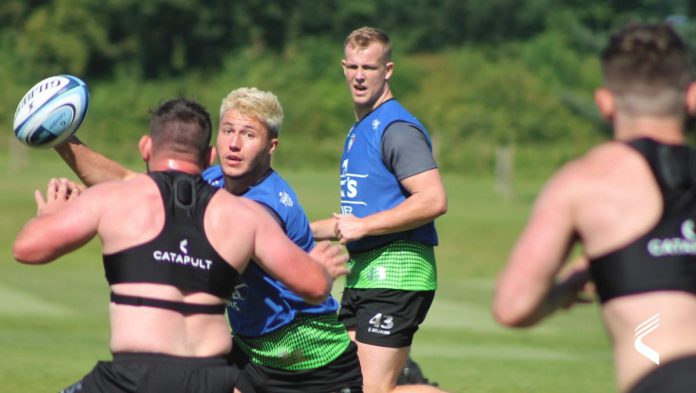 UK rugby club Leicester Tigers has united with Catapult to track and improve team performance.
Winners of a record 10 English Premiership titles, Leicester will be utilising both Catapult's wearable technology and video analysis platform Vision, with the partnership lasting until 2022.
The senior team will benefit from Catapult's new Vector S7 devices, advanced athlete monitoring product which allows both indoor and outdoor tracking. The Vector devices contain sensors  that collect data from fitness and skill levels, to specific training techniques and tactical performance, including scrums and tackles. This information helps coaches to assess injury risk and progress of rehabilitation.
Alex Martin, Head of Physical Performance at Leicester Tigers, said about the partnership: "We're excited to have both Vision and Vector used by our senior team. Being able to integrate the wearable and video analysis is a huge step forward and will push the boundaries of what we're able to do with sports science even further."
Vision, Catapult's video analysis platform, will also be used by Leicester to synchronise wearable data with video, allowing for the addition of context and insight which enables the data to be analysed holistically.
Geordan Murphy, Leicester Tigers Head Coach, praised the collaboration: "Going into the season with some of our players fresh from playing in the World Cup, and with a demanding schedule ahead of us, Catapult's technology will prove invaluable in allowing us to accurately monitor the load we are placing on our players. Catapult's ambitious vision matches that of the club and I have no doubt that the next three years of our partnership will demonstrate this."
Sam Raven, Business Development Manager at Catapult, added on the deal: "We are delighted to join forces with one of the best rugby clubs in the UK, and particularly pleased to integrate our latest world-leading technology in Vector and Vision. Both products will bring a new level of accuracy, usability and efficiency to the sports science department of Leicester, empowering critical decisions about performance, risk and return-to-play."