Pechanga Casino Resort has confirmed the significant expansion of its sports sponsorship portfolio, becoming a founding partner of the in development 70,000 seat, 298-acre SoFi Stadium and Hollywood Park development.
The variety of collaborations will see Pechanga Resort Casino, owned and operated by the Pechanga Band of Luiseño Indians, will be the official California casino partner of the Los Angeles Rams, Los Angeles Chargers, SoFi Stadium and Hollywood Park.
The property becomes the first Southern California-headquartered company to announce a sponsorship with SoFi Stadium and Hollywood Park.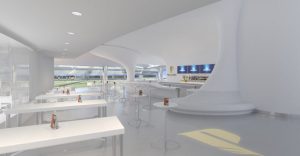 As part of the deal the casino resort is to have "an extensive presence" across the stadium when it debuts next year, featuring select branded spaces such as the 14,000 square foot Pechanga Founders Club.
Furthermore, an 11,500 square-foot activation zone including branding and experiential opportunities is to also be incorporated with signage and brand integration also to be evident at one of four VIP entrances.
"We are thrilled to partner with the Chargers and the Rams, and to be a part of SoFi Stadium," said Mark Macarro, Tribal chairman. "This isn't just a Los Angeles stadium, it's a Southern California stadium, and Southern California has always been and will always be our home. We are especially proud to be able to help local students and people in need with the grants we announced today."
Complementing the new partnership the tribe is to also donate $100,000 to Morningside High School in Inglewood and the Inglewood chapters of non-profits School on Wheels and US Vets.
"We are building a global destination that will be the pinnacle of sports and live entertainment," commented Jason Gannon, Managing Director of the SoFi Stadium and Hollywood Park.
"Pechanga is a company that not only shares Stan Kroenke's vision to build a world-class facility and fan-first development with Hollywood Park, but also shares our passion for our surrounding communities.
The latest sporting link-up adds to longstanding partnerships with the Los Angeles Lakers and the Los Angeles Angels, with naming rights of the Pechanga Arena in San Diego also secured.
"We are proud to be the first Southern California-based founding partner with SoFi Stadium and Hollywood Park," added Jared Munoa, President of the Pechanga Development Corporation.
"This is a natural partnership between two of the top entertainment destinations in Southern California. We can't wait for fans to experience the new Pechanga Founders Club and a lot of the other great amenities here."