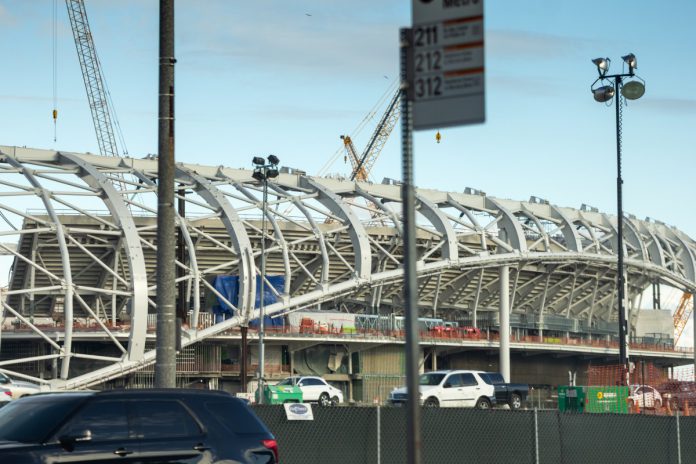 American Airlines has been announced as the first sponsor of LA stadium, Hollywood Park, the home of the Los Angeles Chargers and the Los Angeles Rams.
As part of the deal, American Airlines has also become the official airline of both sides and will also benefit from exclusive naming rights of a 2.5-acre two-level open-air space that serves as a main entrance into the stadium and performance venue.
Jason Gannon, Managing Director of the new stadium commented: "As we continue Mr. Kroenke's vision to build the premier destination for sports and entertainment at Hollywood Park, we are proud to partner with an industry-leading business such as American Airlines. We are both making investments in Los Angeles that will provide fans and customers an elevated experience as they travel, live, work and play."
The newly named, American Airlines Plaza measures 10 stories tall and has a capacity of approximately 15,000 guests. It will be open to the public year-round, on event days, as well as nonevent days.
American Airlines President Robert Isom added on the new partnership: "For decades, Los Angeles has been one of American's most important markets and has played a major role in connecting Southern California to the rest of the world. It is our mission to give our customers the world-class experience they deserve, and we are committed to doing so both at the airport and within the community. It's an exciting time for the City of Angels and for American Airlines."
The plaza is located between the stadium and performance venue. All three venues fall under the same roof, which is made of ethylene tetrafluoroethylene (ETFE), a lightweight and transparent plastic. American Airlines Plaza will have the ability to accommodate its own programming that will reflect and connect with the cultural passions of the Los Angeles community.