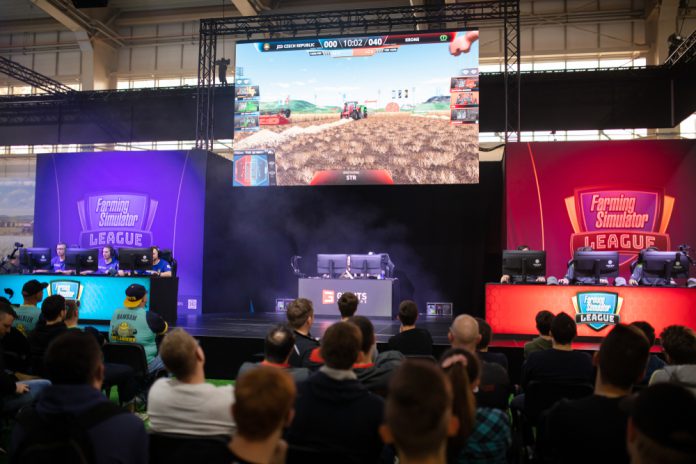 From sponsorships to industry-wide announcements, Insider Sport has you covered when it comes to the world of esports.

This edition takes a look at CS:GO's FLASHPOINT partnership with Pinnacle, Fiorentina's new esports team and the Farming Simulator League's newest home.

FLASHPOINTS bets on Pinnacle sponsorship

Counter-Strike: Global Offensive's (CS:GO) newest competitive league, FLASHPOINT, has revealed betting operator Pinnacle is the competition's first official sponsor.
The collaboration sees Pinnacle sponsor featured matches during pre-show activities and provide match odds for in-play betting.

Paris Smith, CEO of Pinnacle, commented: "Pinnacle's passion for esports over the last decade has driven us to always look at ways to improve the customer experience and continue to build our presence within the community. While we do a lot of work internally to ensure that happens, partnering with FLASHPOINT is also an integral part of achieving these goals."
Pinnacle has been associated with the shooter previously having been the official betting partner of the Esports Championship Series (ECS) in March last year.

The partnership activations are "designed to give CS:GO fans engaging interactivity during the season", with the deal debuting at the Pinnacle Open. The LAN qualifier, which is currently underway, consists of eight teams competing at FACEIT's Los Angeles facilities, where the winners have a chance to secure a spot in FLASHPOINT.
Kent Wakeford, Co-founder of Gen.G, one of the team's participating in the league, concluded: "We're delighted to partner with Pinnacle who sees our vision for a sustainable and profitable CS:GO league built for the fans. 
"We believe we will have one of the most entertaining leagues in the world to develop the next generation of talent and players. We want our fans to interact with FLASHPOINT in unprecedented ways. Pinnacle will bring that level of engagement for us."
UMG Media announces Overwatch Collegiate Series
Esports tournament and broadcast operations group UMG Media has announced an eight-week partnership with Activision Blizzard to host a Overwatch Collegiate Series.

The group, which is a subsidiary of Torque Esports Corporation, plans to launch the competition by the end of March 2020 with different U.S. schools competing for the tournament's $40,000 prize-pool, which will be subsidised into esport scholarship funding.
Each week, the titled 'UMG Overwatch Collegiate Clash' will bring in eight teams to compete. The eight-week series will then conclude with a final winner's round.
Torque Esports President and CEO, Darren Cox stated: "Esports observers have highlighted colleges in the USA as a big opportunity for publishers and brands alike and Torque will use this huge opportunity with Overwatch to prove the value to all parties.
"Like stick and ball sports, college competition is becoming the development league where young esports stars of the future are honing their skills and preparing to become professional gamers. It is a clear step to the "big leagues."
The news is seen as the next step in Torque and UMG's goal to support and grow the esports space, especially at a grassroots level. With the ambition to create a clear path to professional competition for these players currently on collegiate teams.

The Farming Simulator League plants its roots in Germany

The Farming Simulator League will be relocated to a new home amid coronavirus (COVID-19) concerns.

The inaugural league of the agricultural game has been primarily hosted in various gaming and esport events such as IEM Katowice. However, the league has announced that it has established a new production studio in Erlangen, Germany.

The new production studio in Erlangen, Germany has been established by GIANTS Software, the home of the Farming Simulator suite of games.
Lars Malcharek, GIANTS Software's league coordinator, commented: "FSL tournaments will be held in our large, newly-built production studio in Erlangen, Germany. The online tournaments will be held as planned. We are looking forward to many more years of FSL together with all of you."
The Farming Simulator League will conclude its debut season in July 2020 with the best sides claiming the majority of the €100,000 (£87,144) prize pool. Trelleborg Wheel Systems has won seven events so far and recently became the top seed in the competition.
Fiorentina reveals its new esports division
ACF Fiorentina has established its own esports division after agreeing a deal with Hexon Esports.

As part of the partnership Fiorentina eSports will field competitive teams for FIFA and eFootball Pro Evolution Soccer (PES).
Joe Barone, General Director of ACF Fiorentina stated: "Our move into eSports represents another step forward for our club as we look to focus increasingly on digital and the world of eSports, which are so popular with the younger generations around the world.
"With the support of a young, successful company like Hexon, we'll build a competitive team which helps to promote Fiorentina among international eSports communities, bringing these people closer to our club."
Fiorentina eSports has also announced its first competitive gamers with Giovanni "Giovhy69" Salvaggio and Angelo "Tipolosco319" Giannino representing the team in FIFA and PES, respectively.
The Italian side follows the likes of divisional rivals Juventus, who have teamed up with Astralis Group and Inter Milan's QLASH collaboration.