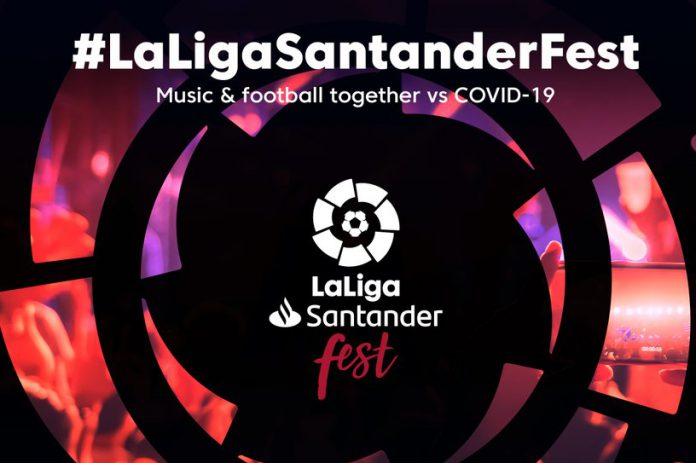 After La Liga's successful charity FIFA tournament, the organisation has decided to launch the 'LaLigaSantander Fest', a musical festival featuring a variety of footballers and musical acts.
The festival, set to take place on Saturday March 28, will take place from the homes of those involved and will be for various charities who are combating COVID-19. The event is in collaboration with Banco Santander, Universal Music and its sponsors as well as players, clubs, artists and GTS (Global Técnicos Y Servicios Madrid S.L). 
Óscar Mayo, director of Business, Marketing and International Development at LaLiga stated: "LaLiga wants to support everyone who is facing their third weekend of quarantine and at the same time, raise money to buy medical supplies to deal with COVID-19. 
"We are very happy with the response we have received from all fronts; footballers, clubs, artists and sponsors have all joined together for this initiative. I am convinced that together we are going to create something very memorable."
'LaLigaSantander Fest' will be broadcast simultaneously around the world, whilst also being followed through all LaLiga channels and the LaLigaSportsTV platform. Donations can be made through the Santander Foundation, with the total hopefully either matching or exceeding the FIFA tournament's €142,000 figure.
The musical artists already announced for the festival include Alejandro Sanz, David Bisbal, Aitana, Sebastián Yatra and Antonio Orozco with a total of 20 artists expected to be announced. La Liga has also revealed that every top division club will feature a representative during the event.

A whole range of sponsors are already involved with the one-off charity festival such as PUMA, EA Sports, Budweiser, LiveScore, Samsung, Panini, Deliveroo and Allianz, among others.

The event has been scheduled in order to provide fans with entertainment given the fact that La Liga, for now, has undergone an indefinite suspension while the coronavirus continues to spread. This has resulted in the government furthering the country's lockdown process by three weeks.