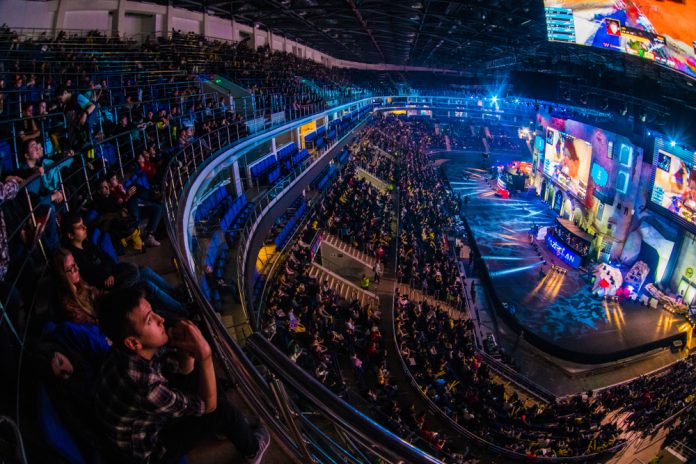 From sponsorships to industry-wide announcements, Insider Sport has you covered when it comes to the world of esports.
This edition takes a look at Immortals hiring NASCAR's former CCO to drive sponsorships, GameScorekeeper launching an esports age verification system and Rogue's newest Nestle partnership.

Immortals hire ex-NASCAR CCO Tuck to lead the line

Immortals Gaming Club, which owns the likes of Call of Duty's OpTic Gaming Los Angeles, Overwatches' Los Angeles Valiant and its own branded League of Legends team, has announced former NASCAR CCO Jon Tuck as its new Chief Commercial Officer.
Tuck will be responsible for handling all of the esports organisations revenue streams which include sponsorships, media sales, merchandise and live events.
The new CCO, via the Esports Observer, stated: "IGC is experiencing a period of dynamic growth with its impressive portfolio of assets and a young, enormous, engaged audience. The entire esports ecosystem is growing and will continue to do so for years to come.
"I look forward to working with the team to partner with brands to help them navigate esports and develop partnerships that allow them to engage our audience in an organic, authentic way."

Ari Segal, CEO of Immortals Gaming Club, added: "In Jon, we've identified an established, strategic, credible, and passionate sales leader who can commercialize that portfolio now and in the future.

"Jon's experience as the senior revenue executive at NASCAR combined with his prior roles managing sales teams and driving revenue at other blue chip, contextually relevant digital properties position him extraordinarily well for this opportunity."

Given Tuck's experience in traditional sports, the esports organisation will hope to continue to develop its organisation in order to share a similar marketability structure, akin to the likes of NASCAR, NFL or F1.

NZESF becomes an official national sporting organisation
Sport New Zealand has officially recognised the New Zealand Esports Federation (NZESF) as the national sporting organisation of esports in the country.

After a four year process, New Zealand has become the 21st country to have an esports national body with the likes of Germany, China and USA among others.
Ben Lenihan, President of New Zealand Esports Federation, commented: "We are absolutely thrilled with this decision by Sport New Zealand. Recognition of the NZESF as the official National Sporting Organisation for esports is a key step in moving esports forward.

"With this official support we are able to help regulate framework around esports to ensure fair play for all, fund growth of the industry and provide education on what esports is and how New Zealanders can get involved."
After being recognised as an official sporting federation NZESF can now feature in discussions such as education and guideline regarding visas, prize money distribution for players and tax statuses. Whilst also the federation to provide additional funding to develop its grassroots and professional esports scene.

Lenigan added: "We can also begin to put in place a clear pathway from community groups and fun online play to young New Zealanders becoming esports professionals. We are confident that New Zealand can punch above its weight in esports, as it does in so many other sports."
GameScorekeeper changes the platform with esports age verification system

Esports betting provider GameScorekeeper has revealed the creation of an age verification system.
The firm, founded by Felix Klastrup, cites examples such as 16-year-old Fortnite World Cup champion Kyle Giersdorf and League of Legends World Championship winner Yu "JackeyLove" Wen-Bo, who at the time was 17, stating that more betting operators need to comply with regulations concerning the age of the athletes. 
Klastrup said: "In football, it's relatively easy to pinpoint most under-18 teams. But in esports, many teams field a mix of under-18 and 18+ athletes which has made our clients increasingly interested in a service that makes the athletes' age transparent and actionable.
"We have developed a new service that covers more than 95 percent of all CS:GO teams and their age majorities. Any operator can use the service to manually or automatically suspend bets with teams with a majority of players under 18. The betting industry will go a long way to ensure compliance and with this service it's relatively easy for them."
GameScorekeeper has also confirmed that Betway has already revealed it will use the service for all of its eligible markets.
Adam Savinson, Head of Esports at Betway Group, commented: "We are committed to providing the widest selection of markets on esports while at the same time ensuring all bets live up to our strict responsible policies and comply with regulation on athletes' age. The Player Age Service from GameScorekeeper ensures that we can maintain this efficiently."
KitKat takes a break with AGO Rogue

League of Legends academy side AGO Rogue has penned a new sponsorship deal with KitKat, allowing the Nestlé company to feature on all of the Polish side's social media channels.
Maciej Opielski, a partner of AGO Rogue stated:" Together with ROGUE we have built a team whose task is to dominate the games in Poland and then fight on the international arena. For now, we are achieving this goal, as evidenced by the first place by AGO ROGUE in the regular season of Ultraliga. 
"In addition, our mission as x-kom AGO is to build a community around the team and acquire business partners. We are extremely pleased that we established the first cooperation with KitKat, which is one of the most popular brands from the Nestle portfolio."
Rogue is owned by ReKTGlobal, which also operates Call of Duty League franchise London Royal Ravens, Greenlit Content, and Fullcube.

Julia Łysio, KitKat Brand Manager concluded: "Time for a break time for KitKat is a slogan well known among bar lovers. We hope that from now on all players during the breaks between games will be guided by the thought of 'time for KitKat'."
The team currently competes in Ultraliga, one of Riot Games' national competitions for League of Legends.