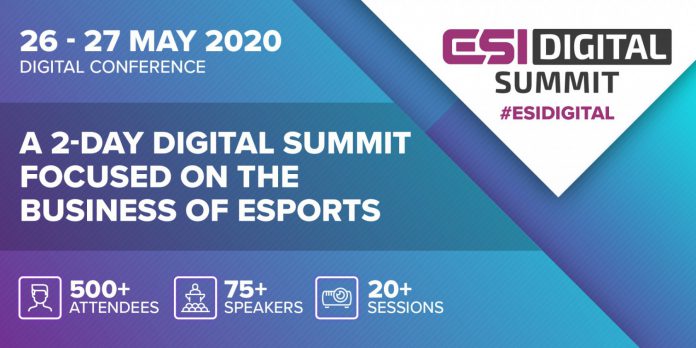 Esports Insider (ESI), a leading B2B esports publisher, has revealed its first wave of speakers and content for the inaugural 'ESI Digital Summit', the first major digital event dedicated to the business of esports.
With two full days of content on 26 – 27 May, topics will range from brand showcases shining the spotlight on prominent mainstream partnerships through to the state of the industry post-quarantine. The event also sees the return of The Clutch Digital (presented by Esports Global), the pitch investment competition and mentorship program for esports startups.
Moreover, the event's speakers will range from C-Levels and executives from world-renowned teams, tournament operators, brands, and investment firms through to data providers and betting.
With live events postponed ESI have gone virtual with its first Digital Summit, a global event with speakers joining from LA to London. The list of speakers include executives from Barclays Ventures, Columbia Records, Faze Clan, Betway, BITKRAFT, Excel Esports, Fnatic, GRID, Formula 1, Team Vitality, ONE Championship, ESL, OnePlus, We Are Nations and many more.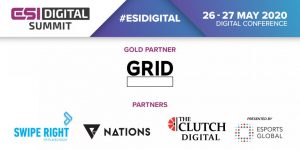 There will be five tracks across Investment, Betting, Brands & Sponsorship, Sports Meets Esports and a new track for ESI events called THINK.
Topics include:
The ESI Brand Showcases: Esports rights holders and their commercial partners are invited to present a recent successful activation, detailing how the deal was formed, how they were introduced into the esports marketplace and how this partnership compares to similar spends in traditional markets.
The return of online esports: With live events currently an impossibility, the industry has seen a huge shift back to the online leagues and tournaments of the past. What differences are there when it comes to moving offline circuits online both for Tournament organisers and viewers alike? And how important will the presence of online tournaments be for the industry during this unprecedented time?
The Clutch Digital: Four esports startups will pitch to a live audience and a panel of esteemed judges and investors. This is presented by Esports Global. 
The viewership boom, what does it mean for brands: Records are continuously broken across streaming platforms, sports first properties such as F1 and NASCAR have witnessed unexpectedly high audiences across television and OTT, brands are paying more attention now than ever before. The lack of sporting competition has left a gap for brands to market to consumers, which esports is best placed to plug. How do esports rights holders best capitalise on this new found attention and interest? Moreover, it's a sensitive time for major brands to make a big splash in a new space, and so how should they go about entering, is it a case of learning to walk before they run?
Moritz Maurer, CEO of GRID – the Gold Sponsor of the summit – stated: "Despite constraints during a global pandemic, ESI continues to serve the industry with a great platform to discuss and educate around topical issues & market trends. We can't wait to participate in the first ESI Digital Summit."
Sam Cooke, MD for Esports Insider added: "These are unprecedented times but the esports industry is ever-evolving and as a digital-first, global industry it has continued to thrive so it's important we provide the industry with an outlet to voice their opinions, address issues and opportunities and help new brands and companies understand how they can work with us so we continue to grow.
"The ESI Digital Summit will be the first dedicated B2B esports event with two full days of content spanning all verticals of the esports space. There isn't another event that can provide such a detailed and varied look into one of the biggest entertainment industries."
The full lineup of speakers and agenda can be found here, with more names and the full schedule available now. Tickets start at only £50 for a two-day pass.
For all the latest information on the ESI Digital Summit follow Esports Insider on Twitter.