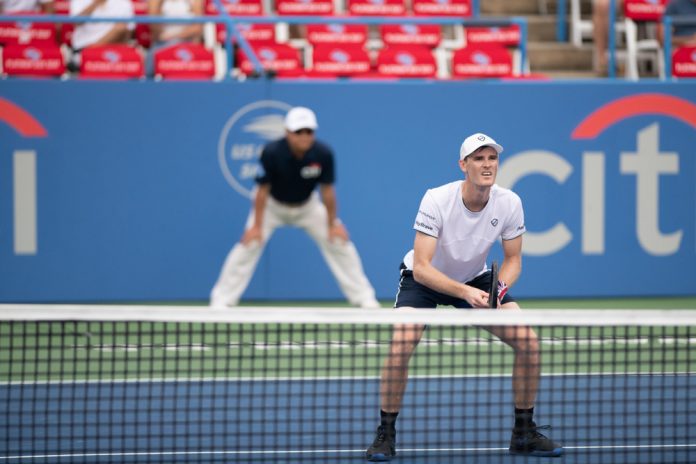 Amazon Prime Video, Schroders and seven-times Grand Slam doubles and mixed doubles champion, Jamie Murray have organised a new men's exhibition tournament, 'Battle of the Brits', which will be broadcast from 23 to 28 June as UK sport resumes.
The six-day long tournament, which will be hosted at the Lawn Tennis Association's (LTA) National Tennis Centre (NTC) in London, will feature some of the country's top-ranked male players including Andy and Jamie Murray, Dan Evans and Kyle Edmund.
Moreover, the event will be available on Amazon Prime Video in the UK and Ireland, whilst other European fans will be able to watch coverage of the event on Eurosport. In addition, US fans will have access to 'Battle of the Brits' on Tennis Channel. 
As part of the event's collaboration with Schroders, the asset management company will be the title sponsor of the event. 
Scott Lloyd, LTA Chief Executive, stated: "The LTA is looking forward to bringing tennis back into people's lives this summer, and are excited about events like this inspiring fans to get involved in our sport and pick up a racket.
 "We've been discussing this event with Jamie for some time and support his efforts, and those of others, to put on events as part of a co-ordinated plan in returning to elite competition. We are represented on the UK Sport working group advising Government on the necessary protocols for the return to elite sport and when the Government is able to announce this phase of eased restrictions for behind-closed-doors events we will work with Jamie's team to undertake the necessary preparations and risk assessments."
The LTA, Great Britain's national governing body of tennis, has been in constant communication with Murray over ensuring that the event is in line with the Government's recent guidelines, which include social distancing regulations and also behind closed door events. The tournament will also feature no ball kids or line judges, with Hawk-Eye being responsible for all line calls during matches.
After the tournament's conclusion, which is expected to raise 'a minimum of £100,000' for NHS Charities Together, LTA's British Tour will commence over consecutive weeks from 3-26 July at the NTC.
Jamie Murray added: "The last few months have been incredibly challenging times for everyone, and we see this event as our way of giving back. A lot of work has gone in to make sure this could happen and we are very excited to be able to bring an action packed week of tennis, while raising valuable funds for NHS heroes to say thank you for the amazing work they have done.
"I'm really excited to be putting on Schroders Battle of the Brits and for the first time bringing together the current generation of British male players to compete against one another while raising significant funds for charity. I am particularly grateful to our broadcast partner here in the UK, Amazon Prime Video, for enabling this event to happen."