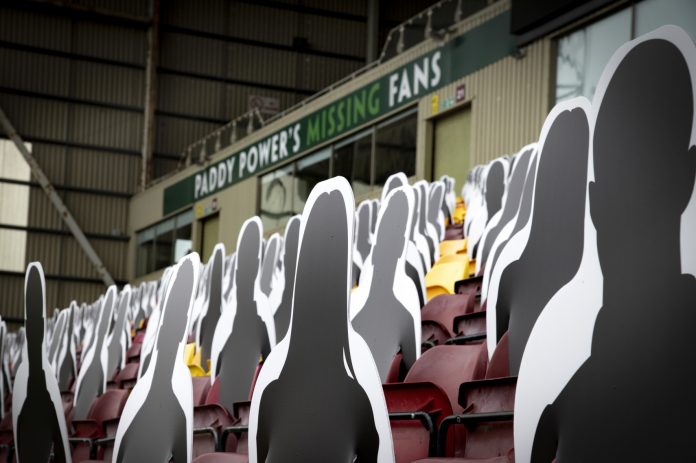 Motherwell has launched a new campaign with Paddy Power to raise awareness of the charity Missing People by filling a stand with silhouettes of fans ahead of Scottish Premiership's new season.
In total, 1190 silhouetted cut-outs have been installed by Paddy Power on Fir Park's south stand which will be shown during broadcasts of games. It has been announced that the silhouette stand will remain until fans can safely return to the stadium.

Missing People is the only charity in the UK which is dedicated to bringing missing children and adults back together with their families.
Suzanne Reid, Head of Commercial, Motherwell FC commented: "The club is delighted to support this campaign and the work of Missing People.  We hope the display helps raise awareness of the help that is available from the charity".

A Spokesman for Paddy Power added: "We all know fans are missing from football at the moment, but some are missing from wider life, too.
"We hope this campaign, and striking image, can spark conversations across the country – as the majority of our customer base are young men, the demographic that's most at risk of going missing."
Moreover, missing people will feature in the windows of Paddy Power shops across the UK, according to the location of where they were last seen. The hope is that the initiative will help find people in the UK who are missing while also raising awareness of the subject to a wider audience.

Jo Youle, Chief Executive of Missing People, added: "This is a highly visible and needed opportunity for families in communities across the UK to raise awareness of their missing loved one – at a time when it is so hard to search due to COVID-19 restrictions.
"We will also be getting the message out via Paddy Power stores to reach a key group of people at higher risk of going missing: men aged 18-39. 
"Important funding through this partnership will help more than 500 people in crisis through 24/7 support on our helpline (116 000), at a time when more people than ever are needing that support."