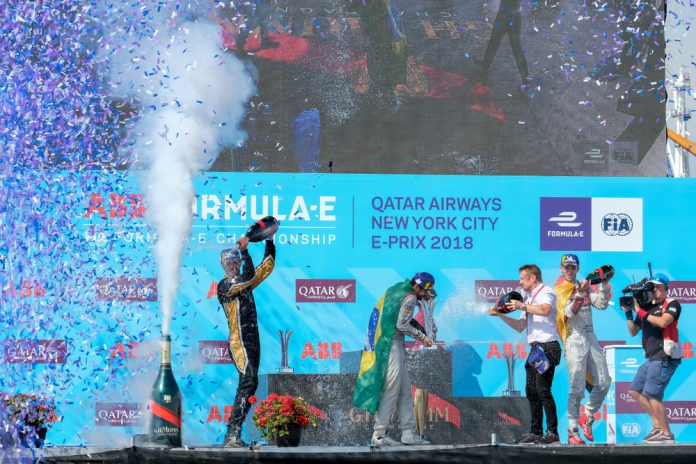 Formula E team Envision Virgin Racing has united with Johnson Matthey to co-develop the first two-seater electric race car which will be based at the team's headquarters in Silverstone.
The FTSE 100 company specialises in advanced chemicals and battery materials and spearheaded by its nickel-rich eLNO hardware, that will be implemented into hybrid and electric road cars from 2024.
The firm will become the team's official partner of the team and its 'Race Against Climate Change' sustainability programme. Furthermore, under the terms of the collaboration, the Envision Virgin race cars and official apparel will also feature the Johnson Matthey branding.
"Our vision is for a world that's cleaner and healthier, today and for future generations, so we're delighted to be working together with Envision Virgin Racing and its owners Envision Group as we both share an ambition to create a more sustainable future," said Robert MacLeod, Chief Executive of Johnson Matthey.
"We're also excited about creating the first electric race car using eLNO technology – which is a major milestone in its  commercialisation – and to join the team's 'Race Against Climate Change' initiative and its goals of inspiring generations to take action to protect the planet." 
The Envision Racing team boasts 11 wins and 29 podiums, and is the only current carbon neutral Formula E team (PAS 2060). Moreover, it is one of a handful to have achieved the FIA's Three Star Sustainability Accreditation.
The team's parent firm, Envision Group, became the first greentech company in mainland China to commit to 100% renewable energy, pioneering research into areas such as smart wind technology and battery development.
CEO of Envision Group and Executive Chairman of Envision AESC, Lei Zhang, explained: "Envision Group, Envision Virgin Racing and Johnson Matthey are all at the forefront of the EV revolution, so I am delighted to be collaborating with them. As a global leader in sustainable technologies, JM's vision aligns perfectly with the net zero values of Envision, and I look forward to working together to tackle climate change before it is too late." 
The 2021 edition of the fully-electric race series gets underway on 26 February with a double-header in Diriyah, Saudi Arabia. However, organisers have been forced to postpone races in Seoul, South Korea and at Sanya in China's Hainan province.