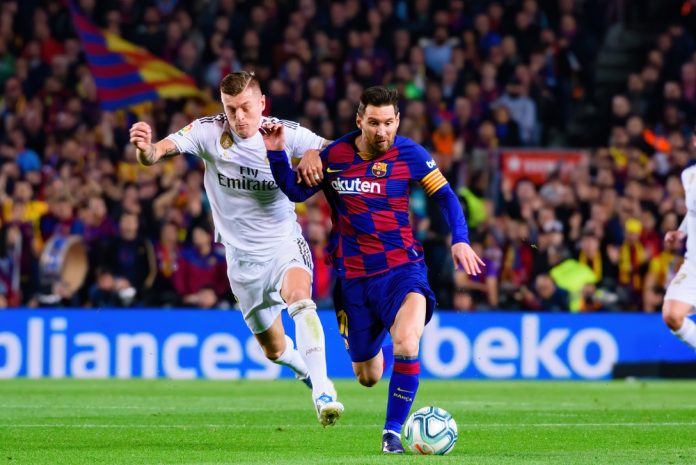 The top two divisions of Spanish football will continue to be referred to as LaLiga Santander and LaLiga SmartBank after Banco Santander extended its agreement with the tournament for a further two years until 2023/24.
With the option to renew the collaboration for an additional year, the deal builds on a relationship between the LaLiga multinational financial services firm that dates back to 2016 when the partnership was first formed.
The strategic union 'demonstrates its [Banco Santander's] confidence in LaLiga to continue growing' during a turbulent period for both the company and sport.
"This agreement is fundamental for us," said Javier Tebas, President of LaLiga. "At this time, being able to continue counting on our main sponsor, Banco Santander, is the affirmation that we are on the right path. Banco Santander is a leading company in its sector that has decided to choose LaLiga as its main partner in the world of sports, which is a source of infinite pride to us."
In March 2019, Santander opted to extend the partnership to include the 2020/21 season, marking the fifth season of the association.
Growing its brand in Spain will be pivotal to the Banco Santander as it seeks increased exposure in the region as part of its latest contract, representing 'continuity, commitment and hope during the ongoing global pandemic.
Rami Aboukhair, CEO of Santander Spain, added: "We are very proud to continue providing our name to the best league in the world, LaLiga Santander. Football reflects the brand of Spain and the matches bring friends and family together. This represents values with which all of us who work at Banco Santander feel very connected, such as effort, teamwork or commitment."
As well as its title sponsorship of LaLiga, Banco Santander will lend its name to the LaLiga Genuine Santander – a professional league created for players with intellectual disabilities – as well as serving as the official sponsor of LaLiga Promises – the global competition for under 12s.
In addition, Banco Santander is the main sponsor of the official FIFA 21 competition in Spain: eLaLiga Santander.
After the Spanish season was suspended on the back of the coronavirus outbreak, LaLiga and Santander have teamed for a number of initiatives to support isolated groups. Most notably, the two parties pledge to donate €1,000 for each goal scored from December 11 to 21 in LaLiga Santander and LaLiga SmartBank, raising up to €130,000 for vulnerable communities.
The pair also launched #LaLigaSantanderFest, a musical festival featuring a line-up of both professional footballers and artists.