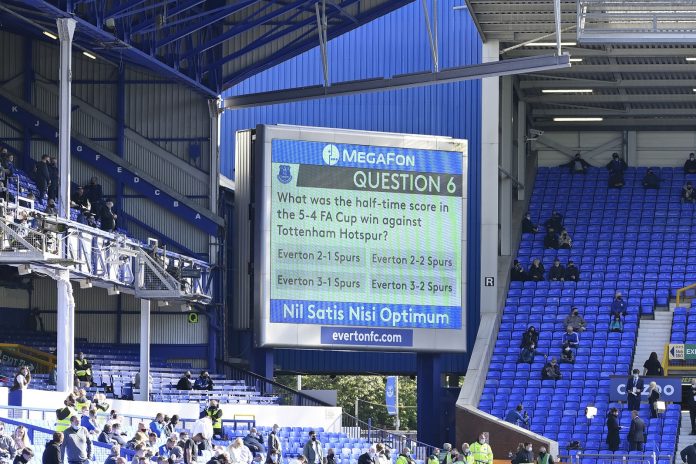 Premier League football club Everton has boosted its fan engagement by linking up with crowd gaming developer Piing, as spectators begin to return to stadiums.
Piing first collaborated with Everton in December 2020, successfully leveraging technology at Goodison Park for two Premier League fixtures and a Carabao Cup quarter-final match.
Interactive games and quizzes are included as part of the fan engagement offering, with the aim of encouraging supporters to remain in their seats to avoid overcrowding in the concourses, in line with COVID-19 social distancing measures.
Piing maintains partnerships with both Premier League football clubs and Blue Chip companies, offering customer engagement and marketing initiatives and providing gaming experiences for stadium-sized crowds utilising real, virtual and hybrid worlds.
"As a club we're always looking for new ways to improve the fan experience, in and outside of the stadium," said Matt Gamble, Senior Digital Manager at Everton.
"When supporters have been able to attend, we've been unable to welcome them into our pre-match Fan Zone, so instead we have tried to provide the entertainment directly to their seats using the interactive gameshow technology from Piing.
"The response and participation from fans back in December was extremely positive and I'm sure that Blues attending have enjoyed the interactive offer."
Initiating the technology on 19 May, Toffees fans who arrived early at Goodison Park for the league clash against Wolverhampton Wanderers FC were given the opportunity to take part in interactive games prior to kick off.
Gareth Langley, CEO of Piing, added: "We're delighted to have been able to support Everton in their mission to provide engaging and stimulating content for their fans.
"Simultaneously, from a marketing perspective we have also ensured enhanced brand-interaction with the fans; providing positive brand touch-points for the club and their partners through digital platforms."
Under the British government's four-stage roadmap for the easing of UK lockdown restrictions, Everton was permitted to welcome 6,500 fans to Goodison Park for its latest fixture.
Football stadiums, in addition to other open-air venues such as horse racing tracks, are now able to operate at a capacity of 25%, whilst the Football Association (FA) confirmed last month that Wembley Stadium will fill 50% of seats for the UEFA 2020 European Championship finals.