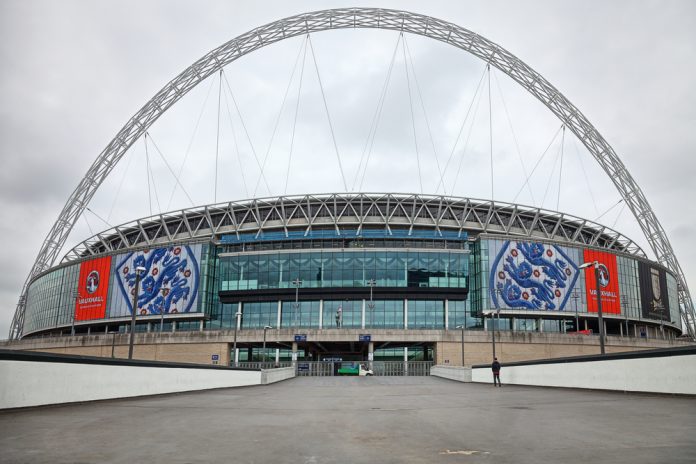 Sponsors of the 2020 UEFA European Championships could be allowed to evade quarantine restrictions in the UK to attend the final matches of the tournament, with Wembley Stadium's hosting duties now in jeopardy.
According to The Times, UEFA could move the Euro 2020 final from Wembley Stadium to the Hungarian capital of Budapest if thousands of VIPs – including sponsors, broadcasters, politicians and UEFA and FIFA officials – are not made exempt from quarantine rules currently in place.
The Department for Digital, Culture, Media and Sport (DCMS) already confirmed that the last 16 tie would be staged at 50% capacity, along with the semi-finals and final in July, with around 40,000 fans present, representing 'the largest crowd in the UK in over 15 months'.
However, UEFA is now pushing for the UK government to allow VIPs to skip out on a quarantine period, despite postponing the easing of restrictions until 19 July, with the majority of competing nations in Euro 2020 named on the amber or red list.
"We'll do what we have to do to keep the country safe from COVID – that's obviously going to be our priority, and we'll be talking to UEFA about what they want and see if we can make some sensible accommodations," Prime Minister Boris Johnson said on Friday.
"But the priority obviously has to be public health."
Last month, UEFA made the decision to relocate the Champions League final between Chelsea and Manchester City from Istanbul in Turkey to the city of Porto in Portugal due to the travel restrictions in place.
UK government officials and the Football Association (FA) met with UEFA to discuss Wembley potentially hosting the all-English showdown but the parties could not agree on quarantine rules for commercial partners and broadcasters – the same conundrum that the country is facing once again.
"We understand the pressures that the government faces and hope to be able to reach a satisfactory conclusion of our discussions on the matter," UEFA added in a statement.
"There is always a contingency plan but we are confident that the final week will be held in London."