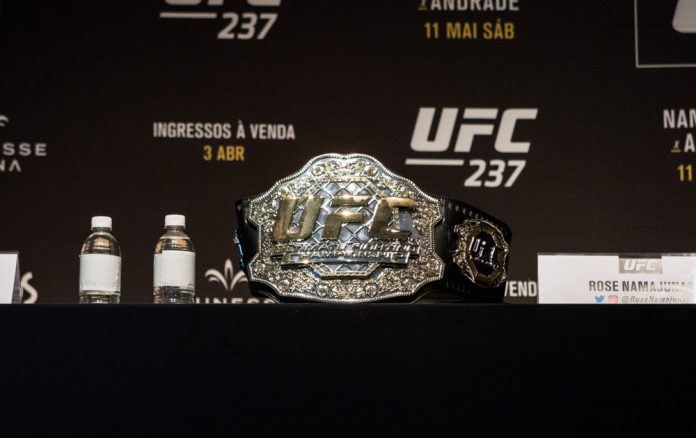 The Ultimate Fighting Championship (UFC) has named Jose Cuervo as the mixed martial arts (MMA) promotion's first-ever official tequila sponsor.
As part of the collaboration, Cuervo will unveil its 'Cuervo in Your Corner' campaign, bringing together fans of UFC and the tequila brand and offering fans 'one-of-a-kind' experiences to access their favourite fighters and engaging digital content.
The partnership will officially begin at UFC 264: Poirier vs McGregor 3 on 10 July at the T-Mobile Arena in Las Vegas, where the firm will launch a number of activations, including a new digital advertisement featuring former interim UFC lightweight champion Justin Gaethje and UFC welterweight Michael Chiesa.
Further activities include bar activations for fans to watch the highly anticipated event and Octagon branding.
"We're thrilled to welcome Jose Cuervo as UFC's first-ever Official Tequila Partner," remarked Paul Asencio, Senior Vice President, Global Partnerships, UFC. "Jose Cuervo is a best-in-class brand that will enhance the excitement of the UFC viewing experience for our fans.
"We're looking forward to helping Jose Cuervo reach consumers through the power of the UFC brand while partnering with them to create innovative ways to activate and connect with our fans."
Meanwhile, Jose Cuervo will also serve as the presenting sponsor of UFC Quick Hits show hosted by Laura Sanko and broadcast live backstage exclusively on UFC social media channels during events, and which features interviews with UFC talent and athletes, personalities and other special guests.
Later this year, the two entities will also host a national sweepstakes to give fans a chance to win a VIP fantasy weekend complete with fighter meet-and-greets, tours and more.  
"Jose Cuervo's passion for bringing friends together over tequila makes our partnership with UFC a perfect match for the camaraderie that's built on fight night," emphasised Lander Otegui, Senior Vice President of Marketing at Proximo Spirits.
"While fighters might be rivals in the Octagon, Jose Cuervo knows UFC is best enjoyed alongside friends. Partnering with this iconic brand gives us a great opportunity to bring the energy and spirit of Jose Cuervo, a brand known for encouraging celebration and togetherness, to the UFC community."