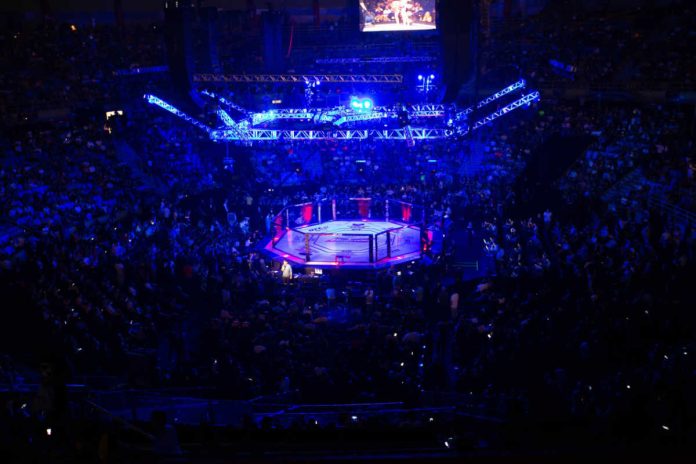 The Ultimate Fighting Championship (UFC) is aiming to make fans become even closer to the fights by partnering with immersive tech firm Cosm.
The mixed martial arts promotion will install Cosm's 8K shared virtual experience to their pay-per-view events to provide a visual outlook on fights that makes them feel as if they are in the octagon themselves.
Cosm is aiming to connect the physical and digital world by creating arena replicas of sporting events to provide an immersive fan experience that brings them closer to the action, adding the UFC to its portfolio of sports leagues and promotions, alongside the NBA. 
UFC fans will be able to harness the virtual reality technology through Cosm's LED-dome display which does not require the need for headsets or other VR devices.
Craig Borsari, UFC Chief Content Officer and Executive Producer, commented: "At UFC, we're always looking for new ways to create deeper engagement with our fans, and Cosm has presented this great opportunity to do that with our biggest events using this unique and immersive viewing technology.
"It's going to elevate the UFC live experience for our fans who watch beyond the arena."
Cosm have been making strides in promoting its innovative technology to sports teams, leagues and promotions as a viable viewing alternative to watch sports.
The company have also announced previously they are working on a venue in Los Angeles, nearby SoFi Stadium – home of the LA Rams – whilst also eyeing another location to be built in Dallas.
"The UFC shares the same passion for innovation and elevating the fan experience as we do, and the organisation and their leadership immediately recognised the opportunity at hand," added Jeb Terry, President and Chief Executive of Cosm.
"We are thrilled to partner with them to give fans a first-of-its-kind immersive experience for UFC fights around the world. This kind of shared viewing experience does not exist anywhere else on the planet, and we are proud to introduce this new era of live entertainment in collaboration with UFC.
"True to form, UFC is always pushing boundaries and will be an anchor of our live sports programming, serving as our second major league relationship, with many more to come soon."