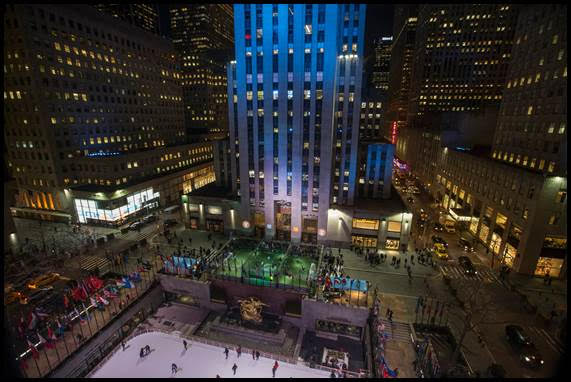 New York City FC and Rockefeller Center will once again unite to host the second annual 24-Hour Game, which will be presented by Degree Deodorant.
The unique sponsorship activation will once again see 700+ New Yorkers descend on the on the iconic Plaza to take part and have the opportunity to be coached by NYCFC players and Head Coach Domènec Torrent in the middle of Manhattan.
CEO of NYCFC, Brad Sims, shared his thoughts on the upcoming event: "For the second year in a row, NYCFC will be at the heart of the five boroughs to rally the City and bring New Yorkers together around soccer. We have the privilege of representing The City That Never Sleeps – so we are harnessing the energy of New York City by hosting our annual 24-Hour Game and inviting everyone to come out and play or join us in celebrating the start of the 2019 season.

"It's only fitting that we kick off our fifth season at a landmark that's as rooted in the City's history as Rockefeller Center."

Registration to play in last year's game was entirely filled on launch day. With 714 player participants and more than a half-million attendees, the game ended with a score line of 415-382 goals.

In anticipation of the Club's opening home game of the 2019 season, home opener on Sunday, March 10 against D.C. United, this year's participants will be divided into two teams: Team Ring (led by NYCFC Captain Alex Ring) vs. Team Maxi (with last year's fan-favorite and 2018 team MVP, Maxi Moralez, at the helm).

The five-on-five game will continue for 24 straight hours with participants on rotation. Domènec Torrent and select NYCFC players are scheduled to lend their coaching skills to participants during the start of the event. In addition, there will be DJs, emcees and a sideline reporter entertaining the crowd with prizes and other surprises taking place throughout. A kids' hour will take place from 11am-12pm on Saturday, March 9 with Sesame Street characters joining the fun.
Tishman Speyer Managing Director overseeing Rockefeller Center, EB Kelly, added: "Rockefeller Center long has been one of New York City's most incredible urban spaces, but thanks to events like this, the Center also has become one of its most beloved parks. Along with the Channel Gardens, public art offerings, and open spaces throughout the plazas, we strive to create an engaging environment for guests to enjoy outdoor space, all in the heart of midtown Manhattan. We're thrilled to welcome NYCFC back to 'our park' at Rockefeller Center this year."

NYCFC Captain, Alex Ring, also commented on the momentum around soccer in the City and this year's Team Ring vs. Team Maxi matchup: "Soccer brings people together and it has been great to see New York City get so excited about our sport and NYCFC. I am looking forward to seeing the crowd come out for this year's 24-Hour Game.

"I am especially proud that one of the two teams will wear my name this year. I expect to help coach my team to get the win and I expect that we will score more than the 415 goals scored by the winning team last year at Rock Center."

NYCFC Midfielder, Maxi Moralez, concluded: "I can't wait for my team to face Team Ring. I hope to lead my team to victory. It's really exciting to get to see soccer played on such a big stage and for such a long time."