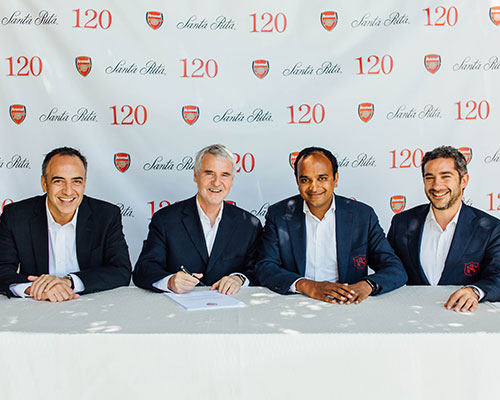 Arsenal FC has deepened its partnership with Chilean winery Santa Rita, as the club continues its preseason tour of the United States.
The renewal was confirmed at the Ritz Carlton Marina del Rey Hotel, with representatives of both parties signing the three-year agreement.
Santa Rita's Chairman Baltazar Sánchez commented: "We are delighted to continue building on this fruitful relationship with Arsenal, impacting both fans and consumers across the globe. Over the initial three-year period, Santa Rita reached millions of football fans on TV, as well as making our wines available to more than 5 million fans at Emirates Stadium in London.
"In addition, we have launched the exclusive Santa Rita Arsenal co-branded wine, bringing the Arsenal brand closer to our consumers. For this new period as Official Wine Partner, we hope to strengthen our scope in key markets such as the UK and the Republic of Ireland; in Asia specifically in China, Japan and South Korea; and in Latin America, Brazil, Colombia and of course Chile."
Santa Rita is aiming to utilise the Arsenal partnership to build on its "Living La Vida 120" marketing campaign, and expand its reach of consumers and football fans.
The group will benefit from pouring rights on wines and sparkling wines from the Santa Rita Estates portfolio across Club Level and General Admission areas at Emirates Stadium, as well as branded LED signage around the pitch at every home Premier League, League Cup and FA Cup match each season.
Arsenal Commercial Director, Peter Silverstone, added: "We're delighted to extend our partnership with Santa Rita highlighting the value we place on building strong, long-term partnerships that can evolve. Since we began our relationship in 2016, we've worked with Santa Rita to build its presence in the UK & Ireland, China and Brazil, amongst other markets, and we look forward to working together to target further markets where Santa Rita can strengthen its position.
"Santa Rita's wine has been incredibly popular with our supporters at Emirates Stadium, so they'll be delighted that its premium wines will continue to be exclusively poured on matchdays and at our stadium events."
The Gunners will also produce branded content for Santa Rita to be shared across both companies digital and communications platforms, including pieces focused on the Club's Legends. Access to Arsenal's Head Coach and Legends, are also included in the partnership.