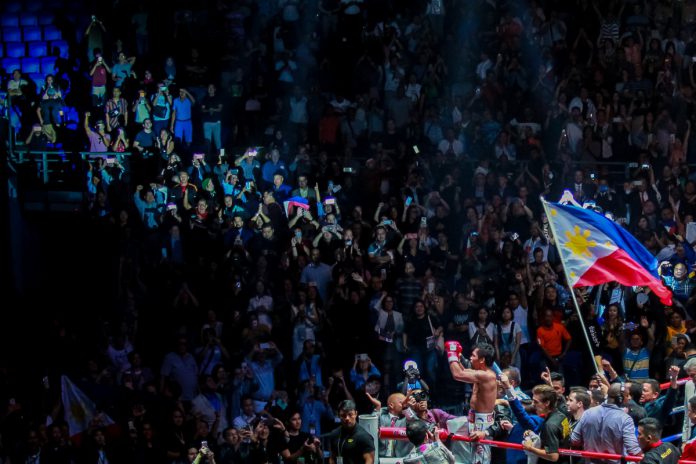 At 40 years old, Manny Pacquaio became the oldest ever fighter to capture the welterweight title when he defeated Keith Thurman last month. The contest affirmed his status as an icon of the sport, whilst also elevating his marketability as an athlete. 
Having recently worked with Pacquaio on a new slots game, Ganapati Europe Holding CEO, Juliet Adelstein detailed to InsiderSport just how expansive the reach of the boxer is, as well as how his marketability would grow should he get the lucrative Mayweather rematch. 
InsiderSport: Firstly, can you tell us more about how much it means to be producing the official game of an icon like Manny Pacquaio?
Juliet Adelstein: "It's an honour to be able to produce a game on behalf of Manny Pacquaio. It's a great fit for us with Ganapati being a company with Asian heritage and Pacquaio being one of the greatest sportsmen to come out of Asia. At Ganapati we're all about storytelling and Pacquaio's rise to riches and 'from boxer to Senator' storylines are both inspiring and compelling – two ingredients that we try to put into all our games."
InsiderSport: Could you explain the importance of the game giving back to Manny's foundation?
"This part of the deal was hugely important for both Ganapati and the Senator. Some of the revenue from the game will be given to the Manny Pacquiao Foundation to help fund local children charities. The thinking behind this was that a game based on the idea of fighting can actually help children of the Philippines continue to fight their own battles and help the growth of the youth across the country, especially in education." 
InsiderSport: Can you tell us about how the project has been strengthened by the Pac Man's resurgence? 
"On the day we announced the slot game, Pacquaio put in arguably one of his best ever performances to defeat the previously unbeaten Keith Thurman and become the oldest Welterweight World Champion ever. It's not only great for our game, as more people will of course want to play the only official game featuring the world champ, but it's also great for boxing to see Pacquaio back at his best in the ring."
InsiderSport: How much would the marketability be boosted if he landed a rematch with Floyd Mayweather? 
"If that fight ever gets made again, then of course the marketability would go through the roof. You only have to look at the excitement that their Twitter exchange generated to see how much interest there is in this fight. Who knows, one day we could even have a Ganapati produced Pacquaio vs Mayweather slot game."
InsiderSport: What other activations can Pacquaio fans look forward to as part of the project? 

"Ganapati will be focusing its activations throughout the rest of the year of the Pacquiao One Punch KO game and theme. So expect lots of boxing related promotions and events across both Europe and Asia for the rest of the year."