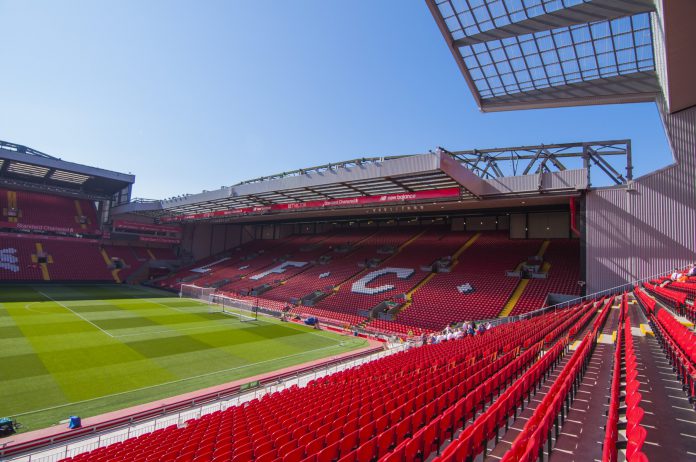 Liverpool FC has introduced cashless payments at Anfield this weekend during the clubs Premier League victory over Leicester City, as part of a phased roll-out.
The move, which is the first in the club's phased rollout scheme, has been designed to offer both improved security and quicker service for fans at the stadium. 
As part of the roll-out, a number of the bars, kiosks and food outlets inside Anfield operated a cashless service during the match following positive feedback from fans during a successful trial period.
Paul Cuttill, vice president of stadium operations, explained that the move will benefit fans: "As a club we are continuing to invest in technology to improve our matchday experience.
"We are trialing this service across the stadium with the hope of reducing queues during peak times. It will also make things more secure for us and will ultimately help us to deliver the best possible customer service to all our fans.
"We appreciate there are those supporters who like to pay in cash, so will continue to offer a provision at a number of kiosks inside the ground. The good news is that a large proportion of our fans are already paying by card rather than with cash in the stadium, so we are hoping that the transition will be quick and easy for many fans."
During the game, the club accepted all major contactless debit and credit cards, with chip and pin applying for purchases over £30. Apple Pay and Google Pay were also a viable method of payment for fans inside Anfield. 
As well as this, LFC has already introduced a click and collect scheme on all concourses which has enabled fans to avoid half-time queues by pre-ordering food and drink for collection using the SeatServe App.
A statement released by the club read: "The roll-out aims to improve service times during peak periods and shorter service periods such as half-time. The results will see increased speed of service, offering more payment options and improved security, with staff not handling cash."
Liverpool mirrored this off field success on the pitch as they now head into the international break having won all eight Premier League games and on a 17 league game winning run which stretches back to March.