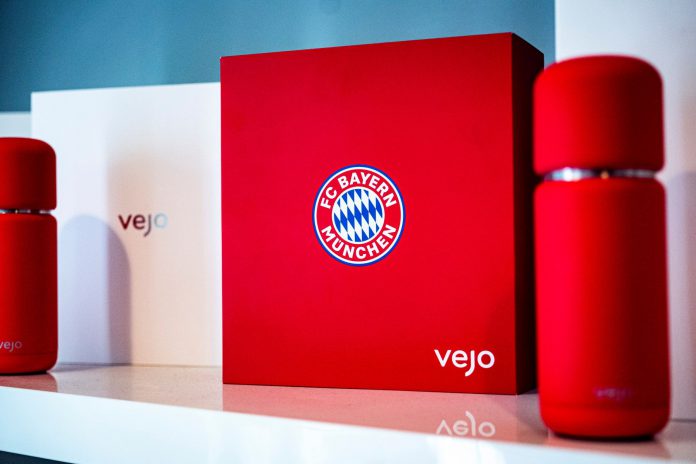 Record German Champions, FC Bayern Munich has announced global personalised nutrition company, Vejo, as the club's Official Sports Nutrition Smart Blending Device in North America, Germany, Austria and Switzerland.
As part of the multi-year alliance, Vejo together will collaborate with the club will develop a specialised pod-based blend to accompany the co-branded FC Bayern Starter kit. The pod and blender support a healthy approach to core fundamentals of well-being, including sleep, stress, movement and nutrition.
FC Bayern Munich's Executive Board Member for Internationalisation and Strategy, Jörg Wacker commented: "Vejo is an exciting nutrition brand with innovation at its core. The success they have seen coupled with their global ambition aligns with our club values and objectives. We are delighted to welcome them into the FC Bayern family. Since opening our U.S. office in 2014 interest and accessibility to the club has grown significantly and in cases like this it plays a big part of the partnership."
Christoph Bertsch, Vejo's Founder and Chief Executive Officer also praised the collaboration: "At Vejo we have created a unique product, which can be tailored to every health and fitness regimen whether you are a top athlete or a growing teenager. FC Bayern Munich is undeniably one of the world's biggest clubs, and their immense reach in Europe and North America make them the perfect partner for us in these regions."
Sebastian Wirtz, Managing Director Vejo Germany added: "Together with Bayern Munich, our innovative and customised approach will take the field of sports nutrition to another level."
FC Bayern Munich's President of the Americas, Rudolf Vidal also underlined: "We are pleased to announce our partnership with this LA-based health and wellness brand just three months after our team's visit to California," said . "Our permanent presence along with frequent match-ups in the U.S. have highlighted the club's reach and engagement, leading to special collaborations such as this one with Vejo."
Vejo's flagship pod-based blender system combines science and nutrition to create a comprehensive line of personalised blends that help people feel stronger and more dynamic. Vejo's Lifestyle blends contain real fruits and vegetables that are picked at peak ripeness and then freeze-dried to lock in nutrition and taste. Vejo is specifically designed to provide a nutritional solution for an on-the-go lifestyle as it is portable, reusable and easily activated without any buttons.