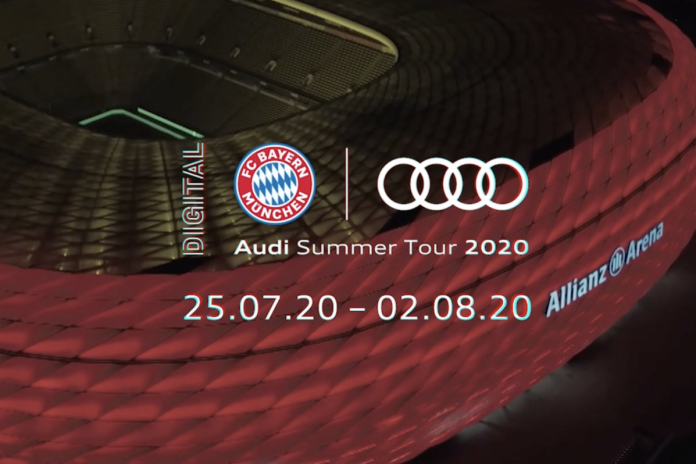 Bayern Munich, in cooperation with Audi, has launched a virtual summer tour in which fans from all over the world will be able to engage with the club from 25 July to 2 August.

The Audi Digital Summer Tour replaces Bayern's physical tour, which has been hampered due to the global health pandemic. However, in an attempt to boost fan engagement and provide opportunities for its supporters worldwide the Bundesliga champions have organised digital events across a variety of platforms.

FC Bayern München AG chairman and CEO Karl-Heinz Rummenigge stated: "As we are unfortunately unable to go on the Audi Summer Tour this year as planned, and as normal for so many years, we have now created this global digital initiative together with our partner Audi, to maintain and nurture the worldwide bond of the FC Bayern family, particularly during this period of the coronavirus pandemic. Our fans across the globe can look forward to exciting content on our platforms."

Some of the events planned throughout the tour include digital autograph sessions with players, virtual fan challenges and interactions with international athletes. Additionally, Bayern will play a friendly match in the Allianz Arena as part of the Audi Football Summit.

FC Bayern München AG board member Jörg Wacker commented: "As hard as this pandemic has hit us all, we have over the past few weeks discovered just how strong the connection is between FC Bayern and the fans all over the world. This digital tour will show that we can always be close and remain together even in difficult times."
AUDI AG board member for sales and marketing Hildegard Wortmann added: "Challenging times demand a very special response. No football club has ever before launched such an innovative and unique initiative. We are proud to be a partner, creating fascinating and exclusive experiences for fans around the world."

Insider Insight: The new initiative, which also marks the launch of the club's 'World's Biggest Sports Family' campaign, is a smart business decision by Bayern Munich as the club looks to successfully replace fan engagement opportunities which usually occur in the preseason.
Additionally, with this being the first football 'virtual tour' it is most likely going to garner a lot of attention which will increase Bayern Munich and Audi's profile.