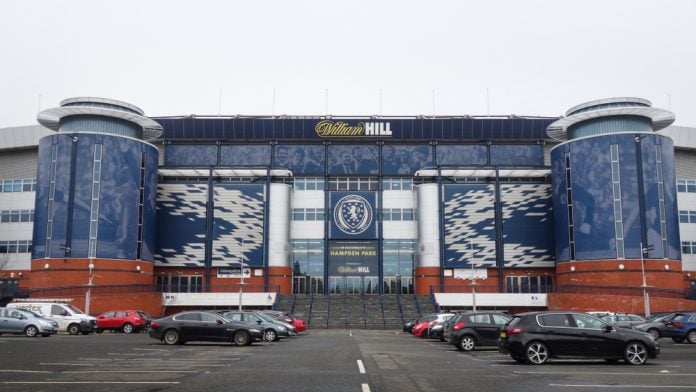 After almost a decade together, William Hill and the Scottish FA's partnership will end after the current season.
William Hill and Scottish football have a rich heritage, with the bookmaker sponsoring the Scottish Cup and national team since 2011. The betting firm also became a sponsor of Hampden Park's South Stand in 2015, while continually being involved within Scottish FA events. 
Scottish FA's chief executive, Ian Maxwell, stated: "The Scottish FA would like to thank William Hill for their investment in Scottish football over the past decade. Their sponsorship has enabled development in many aspects of the game, through the Scottish Cup, men's national team and Hampden Park, but has also supported key initiatives such as the Hampden Sports Clinic's mental health programme."
In recent months, the football landscape has started to shift in terms of its relationship with bookmakers, with Everton's SportPesa termination a recent example of this. However, William Hill and Scottish FA's decision to end its partnership seems amicable from an outside perspective.
Liam McKee, William Hill's head of media and sponsorship, added: "The Scottish Cup is a unique and vibrant competition and it has been honour to be associated with it. We would like to thank the Scottish FA for being a great partner and wish Ian Maxwell and his team the best of luck in the future."
With the 2005 Gambling Act being reviewed in court, other betting organisations could leave English football's sporting landscape over insecurity over what changes may be implemented after the review has concluded. 
The review came into place over concerns surrounding the growing influence of betting sponsorships on clubs in the UK. Currently, half of all Premier League clubs carry a betting sponsor on matchday shirts, and the English Football League (EFL) is sponsored by Sky Bet.
Insider Insight: William Hill has been synonymous with Scottish football for almost a decade, and so a replacement will be hard to find given the impact that the bookmaker has had on the sport. However, William Hill's departure will grant another organisation the chance to sponsor some of Scotland's biggest competitions and the national team.