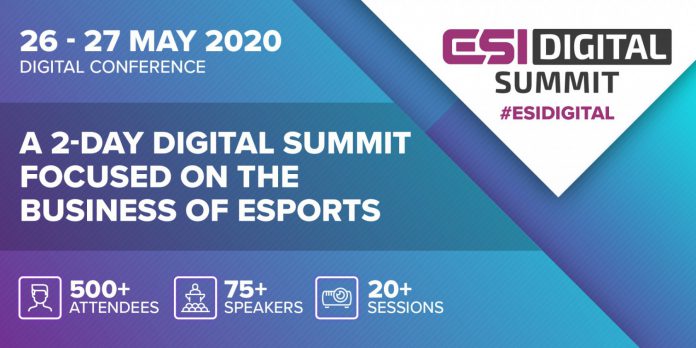 Esports Insider (ESI) has unveiled its inaugural online esports business conference featuring over 500 attendees and a variety of virtual panel discussions.
The ESI Digital Summit will take place over two days, from May 25 – 26, with some of the industry's biggest firms discussing a variety of topics around the sector including betting, brands and sponsorships, investments and its relationship with traditional sports.
Sam Cooke, Managing Director and Co-founder of Esports Insider, stated: "While times are tough in the events space, we're delighted to be bringing something fresh to the esports industry with the ESI Digital Summit. 
"Though it's not at a physical location, the online conference will maintain the reputation we've built when it comes to having the best speakers, covering the most pressing and important topics, extensive networking opportunities, and exciting features like The Clutch and ESI Brand Showcases. I'm excited to see the summit come to life!"
With live sporting events being temporarily suspended many brands, media companies and associations have turned to esports to fill broadcasting schedules, enhance its sponsorship portfolio or retain fan engagement, among other things. 
ESI's Digital Summit will allow its attendees to set up networking profiles and preferences before the event in order to further connect brands and traditional sporting partners to the world of esports.
Moritz Maurer, CEO of GRID, the gold sponsor of ESI's event, added: "Despite constraints during a global pandemic, ESI continues to serve the industry with a great platform to discuss and educate around topical issues & market trends. We can't wait to participate in the first ESI Digital Summit."
As mentioned prior, one feature that has already been announced by the esports website is the ESI Brand Showcases. The feature sees brands and its commercial partners take to the virtual stage to talk through successful esports activations, promoting how firms can successfully use esports partnerships.
For more information regarding ESI's Digital Summit along with how to register for the event click here.