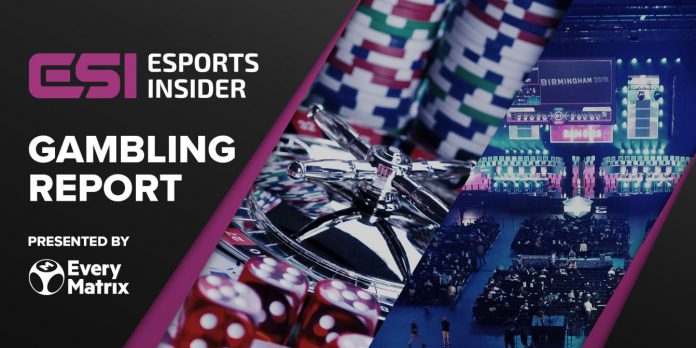 Esports Insider (ESI) has revealed its 'Gambling Report', highlighting how current situations with COVID-19 have influenced the sector's betting industry.
The report, constructed by Cody Luongo, goes in-depth into the esports betting sector and how it has acted as a substitute to various live-sport events for bookmakers.
Quentin Martin, CEO of Luckbox, told ESI: "The uptick is across the board and globally. As well as an increase in registrations, we've noticed an increase in average bet size – almost double since February. Almost every KPI (key performance indicator) is up during the past fortnight. 
"This coronavirus outbreak is clearly going to make things challenging for many companies and those of us in esports are very fortunate that, in the main, business is able to continue pretty much as usual."
The reasoning for esports' recent surge, according to the report, is down to a multitude of factors. Given the fact that punters cannot flutter on traditional live sporting events, more sport-centric esports such as Rocket League, FIFA and F1 esports have increased in popularity among betting markets.
Moreover, more operators are investing in esports in order to add a catalogue of titles and markets to its platform in order to retain customers who like to bet casually no matter the sport. 
Midnite's Founder, Nicholas Wright, stated: "All the attention has shifted to esports with sports being postponed. Even the heavyweight sportsbooks are pushing FIFA, ESL Pro League, and other esports," 
"With more fans at home and watching esports, we have seen our strongest month yet. There is no tunnelled focus on specific esports titles, but we've seen a lot of interest in CS:GO, League of Legends, Rocket League and Call of Duty when matches started to operate again. Now that we have launched our public beta we have seen a rise in accumulators and Match Winner markets, which are more appealing to our casual users."
Insider Insight: ESI's report provides an analytical overview of one of the betting sector's unknown entities in terms of growth and potential. Whilst COVID-19 may have opened up a few eyes to the unique market, the sector will continue to grow and the likelihood of it staying after the virus has been dealt with seems certain.
To view the report head over to Esports Insider by clicking the link here.