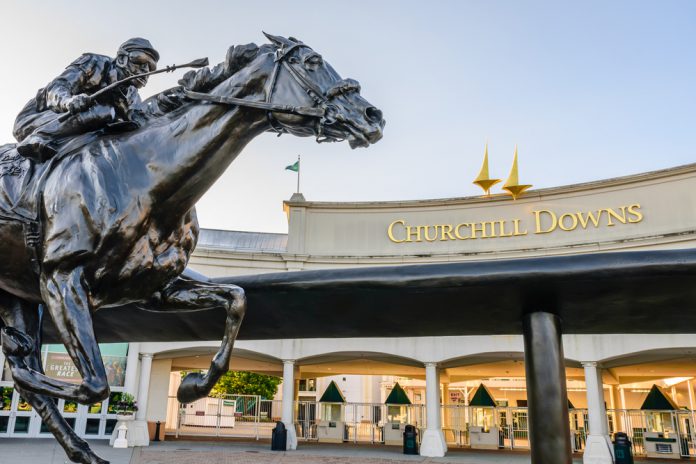 Churchill Downs Racetrack, the home of the Kentucky Derby, has received approval to reopen its stables on May 11 with behind-closed door races set to shortly follow.
The stable's training centre will also be opened up on the same day however both sites will be under strict guidelines to limit the impact of COVID-19.
Kentucky Governor Andy Beshear stated during his 5 p.m. news conference on Wednesday: "We were able to come to an agreement specifically with the group that's going to start, Churchill Downs.
"They are going to start accepting horses and start accepting folks on their backside on May 11. There will be no fans for racing. I will tell you this is one of the most detailed plans that we have seen about specific security checks that everybody has to go through and be temperature-checked to masking to having a very limited group that is there."
Horses will systematically be introduced back into Churchill Downs starting with Fair Grounds in Los Angeles on May 11 to smaller locales bringing their horses from May 20. Moreover when racing returns to the racetrack, it will be staged at a minimum of four days per week, Thursday through Sunday.
"We truly appreciate the leadership of Governor Beshear and all of the hard work and guidance that state and local officials and public health experts have provided us to safely reopen," added Churchill Downs Racetrack President Kevin Flanery. 
"The health and safety of our horsemen, staff and community remains paramount. Strict compliance with our comprehensive COVID-19 Action Plan and social distancing guidelines is our responsible duty to effectively contain the virus."
Some of the precautions the stable and racetrack has put in place include employee training, cleaning protocols, social distancing and onsite daily check-ins among other guidelines. 
Churchill Downs' stable areas have been closed since December due to its winter renovations with it originally scheduled to reopen March 17 until COVID-19 suspended the majority of sporting events.