Women's football has undergone a meteoric rise in recent years, specifically in terms of viewership and engagement. 
Building on this success, Digital advertising and sponsorship agency Football Media has launched its own women's football player representation division to enhance the commercial side of the women's game. The firm's CEO Dean Akinjobi spoke to Insider Sport about the importance of women's football agencies and the extra opportunities it can provide female footballers.

How crucial is it for Women's football to have a player representation agency?
Dean Akinjobi: It is very crucial for women's football to have a player representation agency as the game continues to exponentially grow and become more globally influential.
Therefore, it is crucial that players are represented by an agency that can help them with their on and off the field development throughout their careers, from contract negotiations and brand endorsement commercial deals through to social media, press, on pitch performance and life advice. Having an agency that really understands individual player's needs and challenges is of paramount importance as well as the ever changing football business environment, to help to grow and take players' careers to the next level. 
Does the fact that the Women's Super League (WSL) has been cancelled due to the global health pandemic, whereas the Premier League will resume, highlight the need for Women's footballers to have more representation?
Dean Akinjobi: The cancellation of the WSL due to the global health pandemic and the planned resumption of the Premier League in comparison, highlights how far apart women's and men's football are. Factors such as the financial impact on women's teams covering the cost of PPE and regular COVID-19 tests for players and staff, that would have escalated into costs in the hundreds of thousands of pounds per team, were prohibitive factors that resulted in the cancellation of the WSL.
This period of time highlighted the need for women's football players to have more representation. During the pandemic it raised some very challenging situations for players who were facing uncertain futures, some players were going to be out of contract, others being placed on furlough and there were players in the process of signing new contracts or negotiating transfers to another club, all throughout these uncertain times.
Having good representation that helps players through these times is essential, from dealing with clubs on the players behalf, making sure players were coping mentally with lockdown, working on brand activation activity, through to being that supportive personal group on a humanistic level that can help a player through what is a very emotionally challenging time of their careers.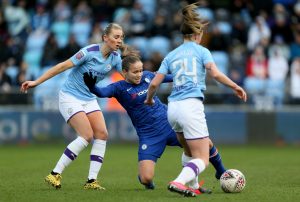 What role could Football Media's agency have in women's football transfers and contract negotiations?
Dean Akinjobi: Football Media's women's football player representation agency deals with all of our women's football player negotiations including transfers between clubs and extension of existing deals. Our philosophy when it comes to women's football player transfers and contract negotiations is making sure that the club is right for the player. We look at key factors such as playing style, facilities, culture, history, management and coaching staff through to the football club's future ambitions on and off the pitch.
As each player is unique and every football club is different, we try to identify as many synergies as possible prior to proceeding with a transfer or contract negotiation, as ultimately it has to be right for the players.
How can the expertise of Football Media expand commercial and sponsorship opportunities for female players?
Dean Akinjobi: Being a digital advertising and sponsorship agency with many clients across different sectors and having done multiple sponsorship deals with WSL clubs, puts Football Media in a very strong position to expand our expertise into commercial and sponsorship opportunities for female players.
The synergies are already there with Football Media's clients and the proven ability of our business to create and deliver brand sponsorships and activation strategies across football, from the WSL through to the Premier League. The addition of our female players as an option for our clients and brands to have access to as sponsorship brand ambassadors, really complements our overall business and creates a 360 offering for brands working with Football Media.
As we work with a wide variety of brands across different sectors, we can now provide them with a female targeted additional channel to leverage, as part of their overall marketing strategies. This helps brands reach different target audiences in unique ways. An increasing number of our clients on the digital advertising side of our business are interested in expanding into women's football commercial sponsorship opportunities and this will now include working with female players too. 
This makes our offering an end to end sponsorship service covering sponsorship creation and strategy through to implementation and activation with female players, supported by the opportunity to leverage our digital multi fan channels that reach millions of football fans. When all combined it is a compelling offering for brands and will enable Football Media to generate more sponsorship opportunities for female players. 
How important is it for an agency to raise the social media portfolio of women's football players?
Dean Akinjobi: It is very important for an agency to raise the social media portfolio of women's players, as social media platforms are core channels through which players can grow their audience and personal brand, and in the long term leverage their intellectual property. 
Implementing a dedicated multi-channel social media strategy aimed at creating engagement is key to audience growth, which will ultimately lead to more opportunities for brand endorsements. It is also very important to develop the right tonality across social media, as some women's football players will excel on different social media platforms, depending on their personality. It is really important to find out what works for each player and create a multi-channel social media strategy that leverages their strengths and interests. 
Overall ultimately it's important to create a balance of being a top performer on the pitch as well as off the pitch on social media. Football Media, which has a platform of dedicated digital football fan channels with social media profiles, is in a strong position to use our years of experience gained from growing and commercialising social media to share with our women's football players, to ensure that they are at the forefront of social media opportunities and developments.
Does the US legal battle involving US women players highlight the need for better representation of women's players?
Dean Akinjobi: I think that the US legal battle involving US women players highlights many things, but at the core of this seems to be inequality. 
The US women's team is more successful than the men's team both on and off the pitch. The US women's team won the Women's World Cup last summer for the fourth time and they have won five Olympic gold medals. The US men's team made the World Cup quarter-finals in 2002, and their best finish was third place in the inaugural tournament in 1930.
Based on success metrics, the US women's team should actually be paid more than the US men's team, but all they are asking for is to be paid equal to what their male counterparts earn, and are having to go to court and make appeals to try to get what they deserve. Football can often reflect society in many ways, as equal pay in the general workplace for women doing the same job as male colleagues is still an issue too.
These issues do ultimately highlight a real need for better representation for women's players and if Football Media can help to deliver upon this and make changes for women's football players on such causes such as equality, we will be collectively achieving something bigger than the game of football itself.