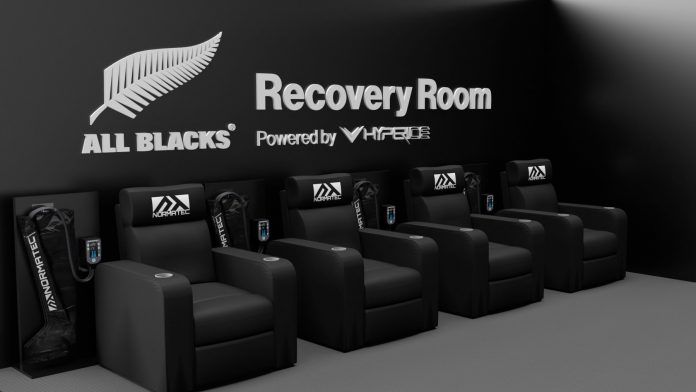 New Zealand's national men's rugby team has named performance technology firm Hyperice as its 'Official Recovery Technology Supplier'.
The multi-year deal will see the All Blacks, All Blacks Seven and Black Ferns players equipped with 'HyperKits', courtesy of the California-based company.
The squads will also have real-time sideline and training room access to a full suite of Hyperice and NormaTec technologies including the Hypervolt, Hypersphere Mini, Vyper and Venom lines. 
Vice President of Business Development at Hyperice, Joe Cannon, said: "For more than 100 years, the All Blacks have created a tradition of unrivaled excellence that has long been studied by teams, coaches and even CEOs around the world.
"One key factor that continues to drive the All Blacks' dominance is their commitment to innovation in athlete care, both on and off the pitch. With this first of its kind partnership in international rugby, the All Blacks will have access to Hyperice technologies for warm-up, body maintenance, recovery, and even during match play."
Hyperice already has partnerships in place with the National Basketball Association, Major League Baseball, Ultimate Fighting Championship, the PGA Tour, Premier League side Tottenham Hotspur and a number of other high-profile athletes, and has now expanded its reach into rugby union.
All Blacks Strength and Conditioning Coach, Nic Gill, explained how important the recovery process is for players: "Our players work extremely hard in the gym, on the training field and in the playing arena and Hyperice technology plays a key role in both guarding against injury and ensuring an athlete's body is performing to its potential every day."