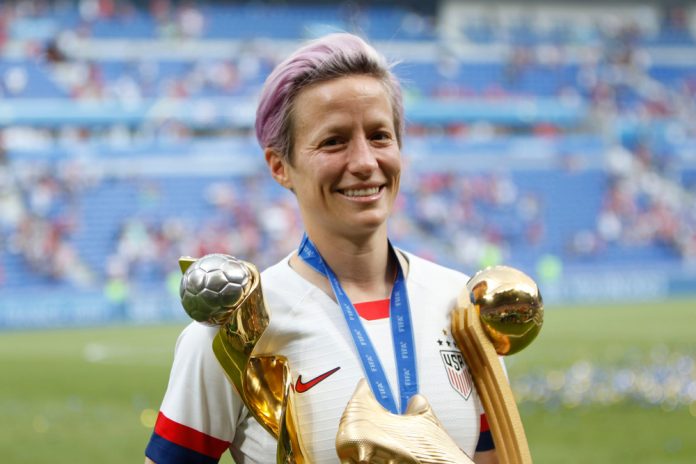 UEFA has unveiled its first ever pan-European women's football podcast, hosted by a handful of professional female footballers as part of the governing body's 'Together #WePlayStrong' campaign.
The trio of famous faces headlining 'The Football Podcast' have been confirmed as Netherlands international Shanice van de Sanden, Paris Saint-Germain forward Nadia Nadim and Dutch Streets Legend player Rocky Hehakaija. Other guests in the line-up include Ballon d'Or winner Megan Rapinoe and last year's Women's Player of the Year Pernille Harder, with more names to be announced in due course.
The podcast taps into subject matter such as the equal pay debate, derogatory and misogynistic social media abuse and whether or not women should play with smaller sized goals. Players will use their own experience to inform topical debates and listeners of the show.
"When I was starting out in football, there were many hurdles that I had to face every day to simply follow my passion," podcast presenter van de Sanden said. "By placing issues such as gender, race and equality under the microscope, we hope to spark conversations which will empower girls who have had similar experiences to never give up on their footballing dreams."
The six-series pilot includes titles such as 'The one where we shouldn't mention our periods' and 'The one where we should get back to the kitchen' – nods to controversial talking points within the sport.
The first three episodes were released across streaming platforms Spotify, Apple Music and YouTube on Monday, with the final three set to air at a later date with additional guests.
Danish international Nadim added: "The perception of females involved in football has shifted massively since I began my career but unfortunately conversations around racial and gender equality have remained largely the same.
"By unlocking these subjects and bringing them to the forefront, we hope to spark a revolution of our game and unite the women's football community to inspire change."
In May 2019, UEFA laid out plans to support, guide and lift women's football through the 'Time for Action' programme.
The launch of the podcast will contribute to the governing body's designs to increase female participation in the sport and re-address just some of the misconceptions surrounding women's football.
FIFA World Cup winner Rapinoe explained how the podcast can become a platform for female footballers to voice their opinions: "Athletes should be brave and use their platform to stand up and speak up. They should always fight for more, and always inspire.
"Society glorifies athletes, we have a responsibility to use that shine and spotlight to make the world a better place."