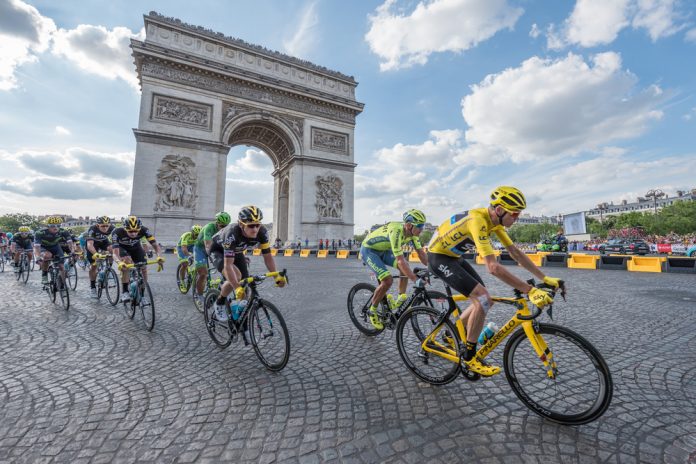 The organiser of the Tour de France, the Amaury Sport Organisation (ASO), has extended its 21-year partnership with telecommunications corporation Orange.
The agreement, which was first established in 1999, has been extended until 2024, covering four more races.
The 2021 edition and 108th anniversary of the race will see Orange introduce its new 5G technology to the Tour de France, which is now the third most watched sporting event in the world. Next year, it will cover nine different regions and 38 departments, beginning in the northwestern region of Brittany on 26 June and concluding on 18 July.
"The Tour is an ongoing challenge, physical for the riders, but also technological for the entire organisation, notably for Orange," Christian Prudhomme, Director of the Tour de France, commented.
"The quality of the telecoms network and the expertise of Orange's national and local teams are essential for each stage to be a success. So I'm very happy that Orange is by our side for the next four years of challenges and achievements."
Orange is in the second bracket of the Tour de France's sponsorship pyramid. Other brands in the second tier include bottled water company Vittel, technology company NTT, Swiss watchmakers Tissot, sportswear clothing line Le Coq Sportif and many more.
CEO of Orange France, Fabienne Dulac, stated: "Orange is proud to support the organisers, partners and spectators of the Tour de France for another four years. An exceptionally popular event, the Tour is a brilliant showcase of our natural and cultural heritage, but also our technological expertise.
"A good connection has become crucial for the race to run smoothly and reach as many people as possible. Orange is proud to be the supplier, thanks to the outstanding job done by its teams.
"The Tour also allows towns and unique locations to enjoy network upgrades, thanks to new permanent Orange Fibre, 4G and 5G installations. We are proud to strive to provide the best possible network across the country."
Orange implemented its 3G and 4G network to the tour in 2004 and 2012 respectively, and will continue to collaborate with the ASO on improving connectivity, broadcasting and security services.