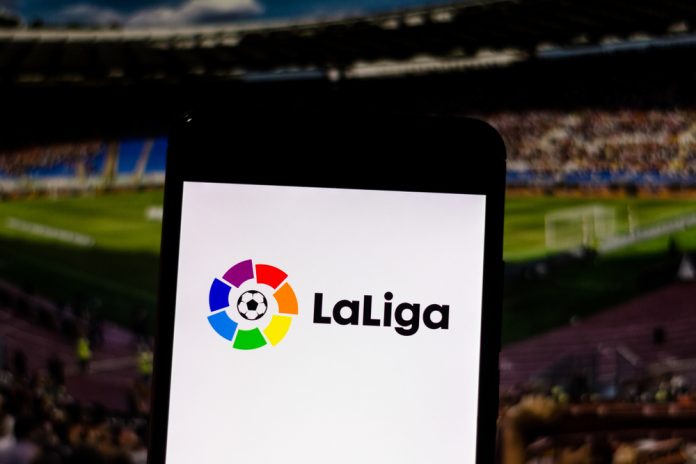 LaLiga has expanded its partnership with Microsoft Corporation, with the aim of 'digitally transforming the sports experience' by developing technology solutions to the media and entertainment industry through LaLiga's technology offering, LaLiga Tech.
As LaLiga's global tech and innovation partner, Microsoft will collaborate with the Spanish football governing body on new and existing solutions that will drive innovation across the sports industry for fans, rights-holders, commercial partners and broadcasters, and venue managers alike.
In addition, LaLiga will utilise Microsoft Azure, including AI and machine learning for its LaLigaSportsTV over-the-top platform and Mediacoach match stats and visualisation platform, to 'reinvent' interactive audiovisual experiences and formats.
"We value Microsoft as our technology and innovation partner and appreciate how they collaborate deeply to build innovative solutions aimed at solving business challenges specific to our industry," noted Javier Tebas, President of LaLiga.
"We are moving into a new era in which technology will become the center of the fan experience and data insights will power the next stage of global growth."
Cited as being 'key to the growth and development of LaLiga Tech', LaLiga will package its full range of existing technologies into a commercial offering for the sports industry to advance content protection services and venue access management systems, carrying the Spanish division into a 'new era in sports'.
"We are thrilled to expand our partnership with LaLiga as it makes further bold moves to deepen engagement with its hundreds of millions of fans, while bringing new business models to market with Microsoft cloud and AI capabilities," added Jean-Philippe Courtois, EVP and President Global Sales, Marketing and Operations, Microsoft Corp.
"Microsoft is proud to help accelerate LaLiga's digital innovation and empower exciting new business opportunities in the sports and entertainment industries through LaLiga's technology portfolio."
The agreement builds on LaLiga's track record of investing and focusing on the development of innovative technology aimed at enhancing the fan experience, after LaLiga first aligned with Microsoft in November 2016, when the company was designated as the official technology partner to the league.
The multinational technology company joins bank Santander, sportswear brand Puma, beer brand Budweiser, LiveScore and BKT in LaLiga's top-tier portfolio of commercial partners.