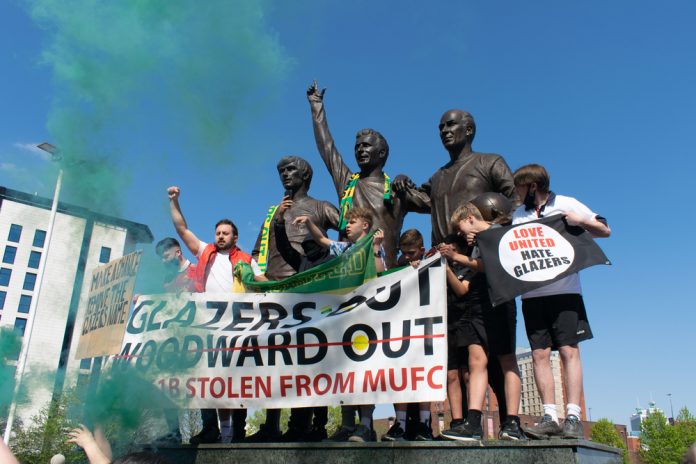 Premier League giant Manchester United is seeking to address concerns relating to the club's ownership by establishing a Fan Advisory Board and Fan Share Scheme as part of a new equity structure.
Announced at the fan forum, where United Executive Co-Chairman, Joel Glazer, made his first appearance in 15 years since taking over the English side, the club said it 'would establish a foundation for supporters to build a meaningful ownership stake and create a new spirit of partnership with the club'.
Although financial details of the offering have not yet been disclosed, the Fan Advisory Board will consult with Manchester United's senior leadership and owners and will comprise representatives from supporter groups.
"Fans are the lifeblood of Manchester United and I am personally committed to ensuring that they are given an enhanced voice, through the creation of a Fan Advisory Board and a Fan Share Scheme," Glazer explained in a statement.
Protests against the club's owners have been ongoing after Manchester United, along with the remaining Premier League 'big six' pulled out of plans to form a breakaway European Super League (ESL).
At the end of April, it was announced that United's Executive Vice-Chairman, Ed Woodward, would step down from his role at the end of the season, saying that he would leave the club 'well-positioned for the future' and expressing his pride at 'the regeneration of the club's culture and our return to the Manchester United way of playing'.
Since then, United fans forced the postponement of the club's top-flight clash with Liverpool and instigated the '#NotAPennyMore' online campaign to thwart brands sponsoring the club.
"The club has been in discussion with MUST regarding a Fan Share Scheme for a number of months and has already sought external legal advice on options," the club said. "Discussions will now intensify, with the aim of agreeing a plan before the start of the new season."
Earlier this week, the Manchester United Supporters' Trust (MUST) penned a letter promoting Glazer to engage with fans and the American businessman reassured the fan group that it would consult them throughout the process aiming to be 'less about words' and more about 'action'.
"Joel Glazer was held to account on a series of issues including debt, dividend payments, tickets prices, lack of investment in the stadium and lack of engagement with supporters for 16 years," MUST added.
"MUST is cautious about whether this Fan Share Scheme will meet their own tests before they give it approval as despite the huge concession on voting rights that this proposal signals as ever the devil is always in the detail.
"In particular, despite Joel Glazers' assertion that this will be 'the largest fan ownership group in world sport,' MUST is concerned that there is a risk that the scheme will limit the number of such Fan Shares made available so reducing the opportunity for this to achieve a meaningful collective fan ownership stake – and ultimately with the potential to result in a change in control of the club."