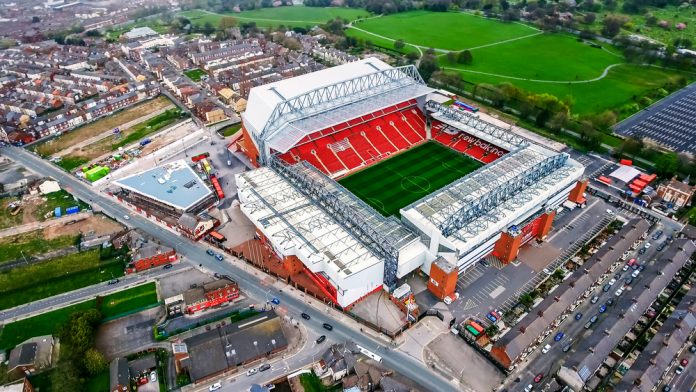 Liverpool FC has been given the green light by the Liverpool City Council's planning committee for the £60 million redevelopment of the Premier League club's iconic home ground, Anfield.
The scheme will see the stadium's capacity increased by around 7,000, taking Anfield's overall capacity to more than 61,000, with the redevelopment of the Anfield Road stand.
As part of the application, the club has also been awarded permission to hold up to six concerts and major events – including American football fixtures – at the stadium for a period of five years.
Despite opposition from environmental groups, who expressed concerns about how the developments would affect the Stanley Park area by joining up the existing and new structures, the planning committee voted 6-2 in favour of the proposals.
Andy Hughes, Managing Director of Liverpool FC, explained: "This is a huge milestone in our journey towards bringing more supporters into Anfield. We underwent a rigorous two-stage public consultation period during the planning process for this project and I would like to thank everyone who has offered a contribution to that.
"We have been clear from the beginning that this expansion would be based on our ability to successfully navigate the complex planning landscape; our ability to gain co-operation of local residents and the community; and our ability to ensure the project is financially viable.
"In what has been a very unpredictable year, we are seeking certainty in order to progress with this project and there are still some steps we need to take to get there."
In December, it was first announced that the club was preparing to submit a planning application, which has now been approved with an 18-month build time.
The summer of 2023 has been given as the earliest estimation for the project to be completed.
Liverpool will also introduce 7,800 seats with temporary safety rails at Anfield next season as part of a 12-month safety trial based on advice from the Sports Grounds Safety Authority (SGSA).
Anfield will remain an all-seater stadium with 1,800 seats with safety rails installed at the back of the Kop and 6,000 in the lower tier of the Anfield Road Stand, as seats with safety rails not classed as 'safe standing'.
The club also penned a letter to the families of the victims of the Hillsborough disaster to explain the reasoning behind the trial, with safe standing a point of contention among Liverpool supporters after 96 football fans lost their lives in the fatal crush in 1989.
"The safety of our supporters when they come to Anfield is our absolute priority and we are fully committed to working with the SGSA on the trial of these new seats," Hughes added.
"It is critical that we listen to the experts and deliver their recommendations to address this safety issue.
"We will complete a full review of the trial in 12 months at the end of next season."