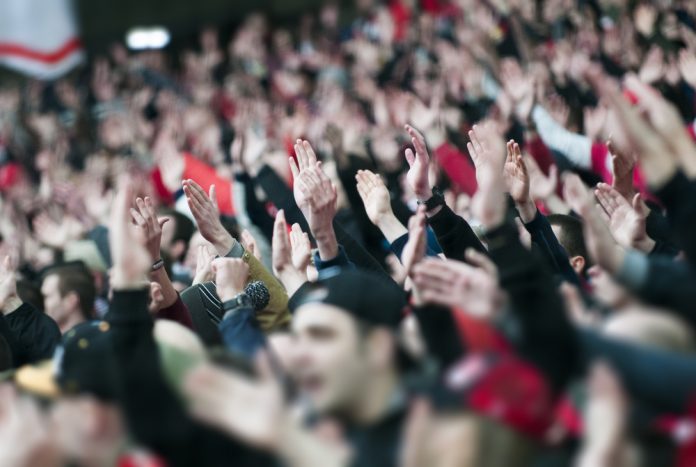 Sports fans returning to stadiums will require a COVID-19 passport to attend matches, according to a report by The Telegraph.
As the Premier League prepares to return mid-way through August, supporters of English top-flight clubs are set to be 'strongly encouraged' to have a COVID passport and wear masks, the UK newspaper added.
Ahead of 'Freedom Day' on 19 July, when the UK moves from Step Three to Step Four of the lockdown exit roadmap on Monday, the government is expected to issue guidance to allow sports to return to full capacity.
Prime Minister Boris Johnson already disclosed that venues accommodating large crowds will be 'urged' to use COVID certification 'as a matter of social responsibility'.
Using the NHS app, COVID certification can come in the form of full vaccination or proof of a negative lateral flow test.
Although the government's guidance will not be 'mandatory', the report added that it would be 'unthinkable' for sports leagues and clubs to ignore Johnson's advice to protect match-goers.
COVID certification has already been in use at pilot events as part of the Events Research Programme, and in April, a group of high profile sports authorities penned a letter to the UK's political leaders, describing the possibility of introducing vaccine passports as a 'credible' solution for the return of spectators to venues.
Signatures to the letter include the Football Association (FA), Premier League, English Football League (EFL), England and Wales Cricket Board (ECB), the Rugby Football Union (RFU), Rugby Football League (RFL), Lawn Tennis Association (LTA), All England Tennis Club at Wimbledon and the Silverstone motor-racing circuit.
Cabinet Secretary Michael Gove also told MPs that COVID passports could be used for football stadiums operating at a capacity above 20,000, which would encompass all Premier League grounds and a proportion of EFL stadiums.
Commenting on the situation, EFL Chief Executive, Trevor Birch, said the league would 'remain vigilant' in its preparations and 'continue to engage' with its clubs and the relevant authorities.
"We have long said that getting fans back into our stadia is an economic necessity for EFL clubs, that have lost millions over the past year and now need to be able to plan with clarity on and off the pitch," he explained.
"Having experienced the highs of Euro 2020 following England all the way to the final this summer, supporters across the country will now be counting down the days until they can return to watch their beloved teams in person, and we know that clubs have been working very hard behind the scenes making plans to welcome supporters back safely."
The government was criticised for allowing over 60,000 fans to attend the 2020 UEFA European Championships final between England and Italy at Wembley Stadium, as many are still unable to visit their loved ones.
The 2021/22 Premier League season gets underway on 13 August when top-tier newcomers Brentford take on Arsenal.
According to The Telegraph, a source at a Premier League club said that COVID passports could disturb fans' 'ingrained' pre-match routines and implementation could prove to be 'a challenge'.
"You walk a certain way to the ground, you meet at a certain time beforehand, you have routines and rituals around going to the game," the unnamed source said. "Most fans do. So having to stagger entry and tell different fans to arrive at different times, clubs are going to have to be very, very clear and up front to communicate that."