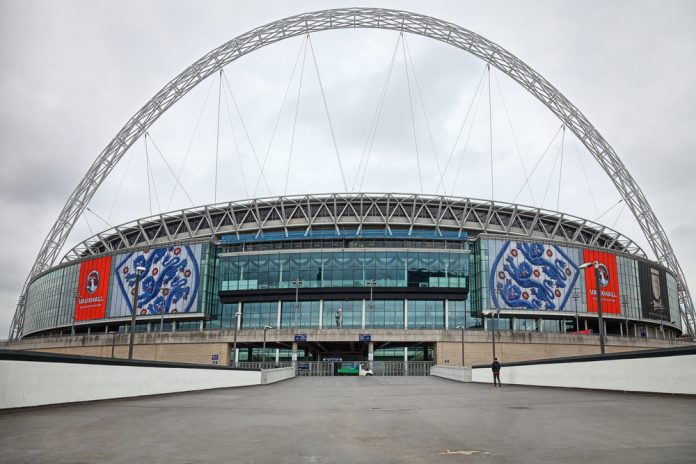 Wembley Stadium will house 60,000 fans at the semi-finals and final of the 2020 UEFA European Championships, after the UK government came to an agreement with the football governing body to up the capacity to 75%.
It had already been confirmed that the national stadium would accommodate 45,000 football supporters, or 50% capacity, for the two last-16 knockout games – due to Euro 2020's status as part of the Events Research Programme – increased from the 22,500 permitted to watch the group fixtures.
However, it has now been confirmed that Wembley will be 75% full for the semi-finals on 6 and 7 July and the final of the continental competition on 11 July.
"It is great news that so many fans will be able to watch the final three matches of Euro 2020 at Wembley," said UEFA President, Aleksander Ceferin.
"The last 18 months have taught us – both on and off the pitch – how integral fans are to the fabric of the game.
"This tournament has been a beacon of hope to reassure people that we are returning to a more normal way of life and this is a further step along that road.
"I am grateful to the prime minister and the UK government for their hard work in finalising these arrangements with us, to make the tournament final stages a great success in Wembley."
Gareth Southgate's side will return to the capital for England's first knockout fixture against either France, Portugal, Germany or Hungary – the runners up of the widely dubbed 'group of death' after Raheem Sterling's strike meant the Three Lions topped Group D last night.
"We are thrilled that more fans will now be able to walk through the Wembley turnstiles and enjoy the finals of Euro 2020," explained UK Culture Secretary, Oliver Dowden.
"As we continue to make progress on our roadmap out of lockdown, keeping the public safe remains our top priority.
"We have worked extremely closely with UEFA and the FA to ensure rigorous and tight public health measures are in place whilst allowing more fans to see the action live.
"The finals promise to be an unforgettable moment in our national recovery from the pandemic."
However, fans are still awaiting a decision on whether the UK government will grant VIPs, including sponsors and broadcasters, a special exemption from quarantine rules, amid talks with UEFA and the Football Association (FA).
It has been reported that the final of the tournament could be relocated to Hungary, should the UK fail to meet the European football authority's demands.