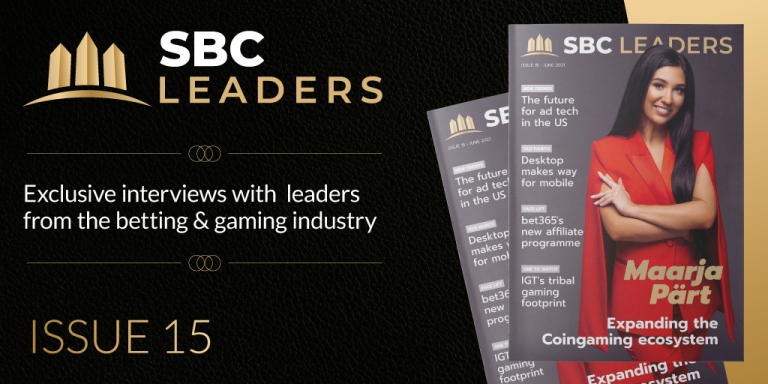 The SBC Leaders magazine is a free quarterly magazine with in-depth, long-form interviews with the biggest names in sports betting, iGaming, payments and more. The publication arm of SBC Leaders, and an accompaniment to the SBC Leaders podcast, this free online betting and gambling magazine profiles the most innovative personalities in the industry.
SBC Leaders Issue 18 – December 2021
Issue 18 is a bumper edition for SBC Summit North America, and features as its cover story an interview with President and CEO of the American Gaming Association, and our opening keynote, Bill Miller. Miller addresses the challenges facing US gaming in a fascinating interview.
Also in Issue 18:
James McKay on how Virgin Bet are standing out from the crowd
Tim Heath on Arsenal & Innovation
Johnny Avello, from dealing dice to the DraftKings boardroom
Yossi Abadi on the cornerstones of Tenlot's success
The key to driving growth in iGaming
And much more from the realms of sports betting, iGaming, payments, lottery and marketing
SBC Leaders Issue 17 – October 2021
Issue 17 features as its lead story, an exclusive interview with Lenin Castillo, Online Chief Operating Officer of Logrand Entertainment. Castillo gave his thoughts on the continued growth and evolution of the Latin American gaming landscape, and gives his three key pillars of success for an online casino in Mexico.
Also in Issue 17:
Sacha Dragic on broadening SuperBet's horizons

Sportingtech on unregulated markets

Brandon Walker and Jeff Millar on the inevitable rise of iGaming in the US

PaddyPower on cracking the US market with their ASX platform

A letter to Affiliate Leaders

Plus, exclusive stories on payments, streamers, lottery and more!
SBC Leaders Issue 16 – August 2021
Issue 16 of the SBC Leaders magazine features Jette Nygaard-Andersen, the CEO of Entain, as the lead story. Nygaard-Andersen speaks about her first 6 months as CEO of Entain, the challenges of leading during the pandemic, her views on technology enabling players, and why she's so excited for Entain's future.
Also in Issue 16:
Warren Murphy on scaling up Sportradar's soccer offerings
How Ontario are bringing sports betting 'into the light'
Rupinder Singh of Paysafe on closing the gap in LATAM payments
Is the US heading for a mobile vs land-based casino battle?
PartnerMatrix on avoiding affiliate fraud
Plus, exclusive stories on payments, lottery and more!
SBC Leaders Issue 15 – June 2021
Our latest issue, SBC Leaders issue 15, features as the lead story an interview with Maarja Pärt, who recently featured on an episode of the podcast. Maarja is the CEO of Coingaming, and gives a great interview on expanding the Coingaming eco-system.
Also in SBC Leaders issue 15:
BetConstruct: Embracing the switch to less traditional betting content
Sportradar: How ad:s meets challenges faced by US Sportsbooks
Hipódromo de Palermo: First online experiences in Buenos Aires
Spribe and Fantasma Games on the rise of mobile gaming

The impact of BCG's football and social media code of conduct

Why balancing AI and the human touch is key in AML
SBC Leaders Issue 14 – April 2021
SBC Leaders Issue 14 features as the lead story, Ulrik Bengtsson, Group CEO at William Hill. Ulrik gives a fascinating interview around the UK Government's Review of the 2005 Gambling Act, and noted that he believes a company's main goal should be to ensure their players are able to play in a safe environment. Ulrik's incredibly honest and self-aware viewpoint is available as the lead story in Issue 14.
Also in SBC Leaders Issue 14
Paysafe on the Impact of Covid-19 in the US Betting space
Sightline Payments on driving US acquisition and retention
Lazcano Sámano debunk myths around Mexican gambling
PariMatch on the top 2021 marketing trends
Why the US has become the priority for NetEnt
How the pandemic has reshaped Crypto
Plus, SlotBeats Slot of the Week winners roundup!
Issue 13 – February 2021
Issue 13 of the SBC Leaders Magazine featured as the lead story an interview with Elen Barber, Chief Marketing Officer of the Kindred Group. Elen gives a fascinating interview regarding the challenges and adaptations faced by the Kindred Group brought on by the pandemic, the responsibility to innovate with regards to responsible gambling, and using data in marketing.
Also in SBC Leaders Issue 13:
Bill Hornbuckle: The change in attitude towards sports betting
SG Digital: The next phase of the US Sports Betting Journey
Vasilije Lekovic from Trustly on what's new for payments in 2021
Jari Vähänen on making sense of Finland's new gaming regulation
Plus, India – will fragmented regulations hinder progress?
Issue 12 – December 2020
Issue 12 of the SBC Leaders magazine features as the lead story an interview with Fabio Schiavolin, CEO of SNAITECH. Fabio gives a fascinating interview on the challenges he's faced as a CEO during the pandemic, the importance of innovation, and establishing SNAITECH as a leading operator in Italy, and further afield.
Also in SBC Leaders Issue 12:
RTSMunity on eSports betting in 2021
A look into political betting
Funfair: Casino streamers can bring gaming communities together
Scan'n'Play: Trustly brings digital payments to land-based gaming
MuchBetter: Is Italy finally ditching cash to embrace digital money?
Plus: The National Lottery – what's next?
SBC Leaders Magazine – Issue 11 October 2020
SBC Leaders Magazine – Issue 10 August 2020
SBC Leaders Magazine – Issue 9 June 2020
SBC Leaders Magazine – Issue 8 April 2020