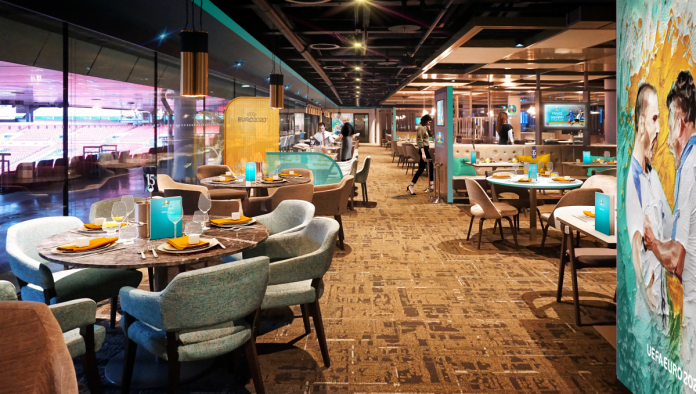 The Official Hospitality Programme for UEFA EURO 2020 is now on sale, providing fans with the opportunity to secure their place at their choice of matches throughout the tournament.
As the exclusive hospitality sales agent for UEFA EURO 2020 for clients based in the United Kingdom and Ireland, IMG has today unveiled exclusive concept images and full details of the hospitality packages that are available to purchase in line with the one year to go milestone until the start of the tournament.
In its 60th anniversary year, UEFA EURO 2020 will be the biggest and most inclusive celebration of European football in history, with the hosting shared by 12 cities across Europe. Wembley Stadium in London will host seven games next summer, including both semi-finals and the showpiece final. Dublin and Glasgow – both hosting the European Championships for the first time – will each host four matches throughout the tournament.
Each hospitality experience is guaranteed to provide an unforgettable experience and the best seats in the house at the history-making tournament:
Private Suites: Guests entertaining clients, friends and family can experience the action and delicious food and wines from the exclusivity of their own private area, with premium seating situated on the balcony directly outside.
Shared Lounges: Guests can enjoy the match from a selection of hospitality lounges, combining a premium matchday experience with an unbeatable view of the action.
For further details and hospitality bookings visit IMG's UEFA EURO 2020 Official Hospitality website: https://hospitality.euro2020.co.uk/.