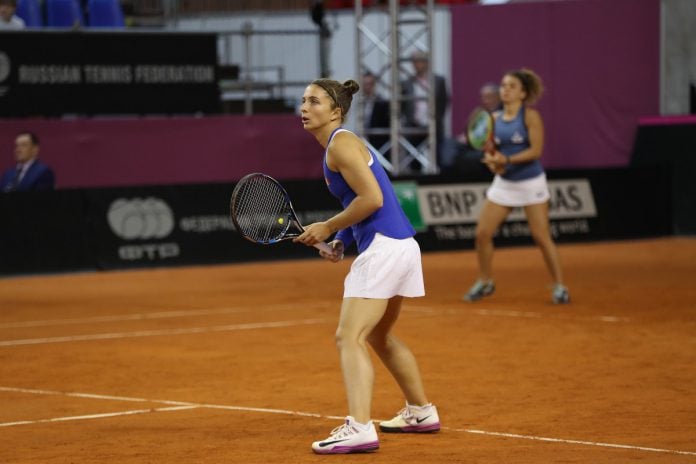 The format of the annual women's tennis tournament, the Fed Cup, is due to undergo significant changes ahead of the April 2020 tournament in Budapest. The changes, confirmed by the International Tennis Federation (ITF) on Thursday, will see 12 countries do battle in the finals, all on clay courts.
Qualifiers for the Fed Cup will start next February with France, Australia, Hungary and an unnamed wildcard already guaranteed participation in the restructured tournament.
In Budapest, where the tournament will be held until 2022, the 12 teams will be divided into four groups of three teams each. A round-robin format will decide the group standings which will then lead onto a semi-finals and a final. All fixtures will consist of two singles games and one double game.
The new format means the Fed Cup will now span just two weeks of the existing tennis calendar.
As well as the glory, the players will be competing for the lion's share of the $18 million prize fund. $12 million of that will be divided among the players with the remaining $6 million going to the national associations of the successful countries.
Running since 1963, the Fed Cup is often referred to as the 'World Cup of Tennis' in the women's game. David Haggerty, the president of the ITF, alluded to the prestige of the competition in his statement regarding the competitions reshuffle.
Haggerty said: "The launch of the Fed Cup by BNP Paribas Finals will create a festival of tennis that elevates this flagship women's team competition to a new level, yet remains loyal to the historic core of the Fed Cup.
"We have consulted and listened to stakeholders and worked with the WTA and its player council to make sure the new format represents the interests of the players.
"We pledged to our national associations during the 2018 AGM that we would introduce reforms that will grow the competition's global audience and enable greater investment into the future of the sport.
"We believe this bold new Fed Cup format delivers this pledge."