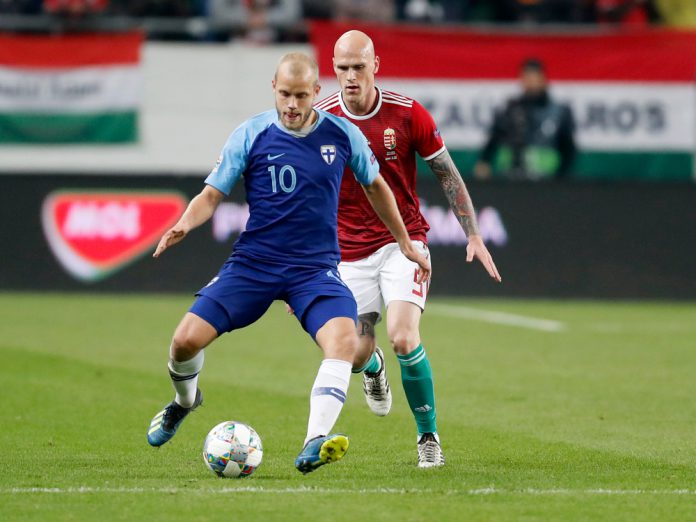 Aiming to capitalise on the success of Teemu Pukki, Norwich City has unveiled a new partnership with one of Finland's leading marketing agencies, i2 ltd.
The collaboration seeks to grow the club's continued efforts to further its reach and engagement throughout Finland.
Pukki's success for both club and country has led to the exponential growth of the Canaries in Finland, with it now being the second largest retail market for the club outside of the UK.
City's Head of Commercial Development Ben Tunnell commented on the Partnership: "When we set out on our journey of support for Teemu Pukki and the Finnish national team, it was clear that for us to be commercially successful we would need to partner with Finland's premier marketing agency for us to achieve our commercial objectives.
"We are very happy to agree a cooperation strategy with Jari-Pekka Jouppi and i2 ltd. In the UK we have built the foundations of our self-financed model on securing long-term regional partnership agreements with local businesses. We are hoping to continue this trend overseas by partnering with great, privately-held local Finnish businesses."
i2 ltd Director Jari-Pekka Jouppi added: "The people of Finland are now extremely interested in Teemu Pukki and Norwich City. During the current season, the team's games have had an average of 400 Finnish spectators. We wish to make using the team in marketing communications both in the English and Finnish markets as easy as possible."
In spite of Pukki's goal scoring exploits Norwich are struggling in the Premier League, currently sitting at the bottom of the league and four points off safety. Nonetheless, an early season victory over Premier League champions, Manchester City will give The Canaries hope that they are cut out for this level. 
Insider Insight: In Teemu Pukki, Norwich are fortunate enough to not only have a player that can bag enough goals to considerably increase their chances of survival, but also a that can help enhance their global footprint. Failing to capitalise on the new found stardom of the striker would a major opportunity missed for the Canaries.