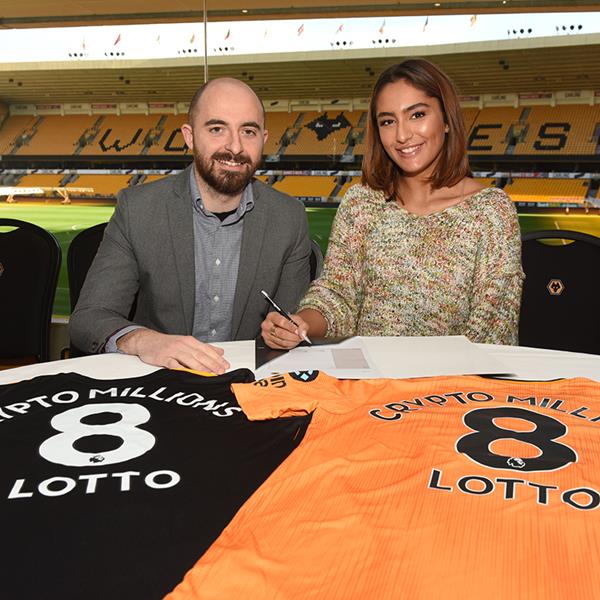 Wolverhampton Wanderers has unveiled a new partnership with the world's largest bitcoin lottery, Crypto Millions Lotto. 
The innovative partnership, which is the first between an online lottery business and Premier League club, sees the firm become the "Official Online Lottery Partner" of the Midlands side. 
Praising the partnership, Crypto Millions Lotto CEO Sulim Malook stated: "We are delighted to have found a partner that has the same disruptive ethos as ourselves. Wolves' success last year has put the club's name on the world stage in a sport that is by far the most watched on the planet.
As a company, we are big football fans, and Wolves is the most crypto-friendly club in England. They were an obvious choice."
One of the most significant elements of the partnership is the major step it represents in bringing the world's most widely used alternative currency further into the mainstream. Wolves and Crypto Millions Lotto are doing their collaborating to encourage bitcoin usage and adoption along with Crypto Millions Lotto's unique referrer program, operated through sister site www.earnbitcoin.world. This allows registered users to receive referral fees in bitcoin and compete for a US$2.5 million prize without even buying a lottery ticket.
Steve Morton, head of commercial at Wolves, added: "We're delighted to partner with Crypto Millions Lotto, an ambitious company that is keen to increase its exposure with the help of Wolves' global reach across various platforms. We're also excited to develop our relationship, which will also see the Wolves brand reach new audiences in Eastern Europe and South America."
Following Wolves making progression in the Europa League, the club will have increased its commercial value, through the global audience of the tournament. It means brands like Crypto Millions Lotto can partner with the club for the purpose of global audience expansion.