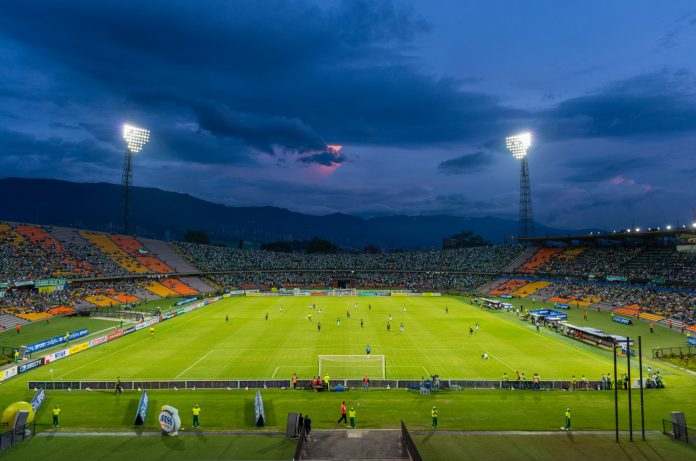 The Division Mayor del Futbol Profesional Colombiano (DIMAYOR), the organisers of the top two professional football leagues in Colombia, has announced it will be implementing Catapult wearable and video technology.
As a result, all 36 teams in both Colombia's first and second divisions, Liga BetPlay DIMAYOR and Torneo BetPlay DIMAYOR respectively, will utilise a total of 720 Vector X7 and G7 (a goalkeeper-specific device) wearable devices for the next three years.
Jorge Enrique Vélez García, DIMAYOR's President, discussed how the use of Catapult technology can aid avoid injury risk and help understand match demands: "In the DIMAYOR we believe that technology in sport is a tool that helps to enhance competencies and that is why we are always analyzing how we have agreements with innovative companies in football. 
"Catapult is a leading company in GPS and the monitoring of athletes in different disciplines, we as administrators of Colombian Professional Soccer are interested in clubs having the best inputs to preserve the physical integrity of the players and this new technological service that will enable this.
"We will have the most modern equipment of Catapult and thus we achieve an excellent agreement with them, so that they are our allies with the sports departments of the teams, in maximizing the performance of the players."
Similarly to Catapult, Liga BetPlay DIMAYOR is committed to pushing the boundaries of performance, with the deal further underlining the league's reputation as one of the most innovative and forward-thinking federations in the South American Football Confederation (CONMEBOL).
Will Lopes, Catapult CEO, added: "This deal is a testament to the world-class nature of our performance products and shows that the investment we've made in Vector is helping drive the market and ensuring teams and leagues are enhancing the physical performance of their athletes. 
"We're also extremely motivated by the implementation of Vision, a video analysis tool we've engineered to bridge the gap between coaches and sports science, at the league level."
Moreover, the deal adds to Catapult's LatAM portfolio which already included 10 of the 36 teams in Colombian professional football, including current champion América de Cali and Argentina's La Liga Nacional de Basketball.
Matt Bairos, Catapult chief commercial officer, concluded: "Our presence in LATAM has been organic and exponential, and we have a great team on the ground which is delivering rapid market education and technology deployment. This is our second league-wide deal in the region and it cements our position as the chosen performance partner for the best teams in North and South America."