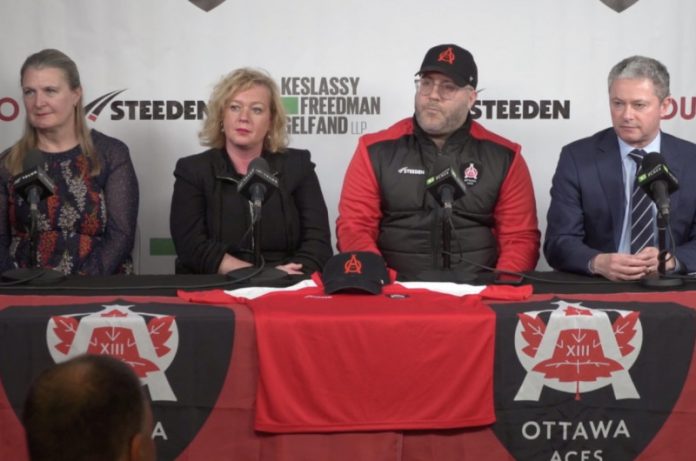 The Rugby Football League (RFL) has announced that Ottawa will become the second Candian side to enter the rugby league pyramid following the acquisition and rebranding of  Hemel Stags to Ottawa Aces.

The side will enter in RFL's third division, the Betfred League 1, in the 2021 season. As part of the acquisition, Ottawa Aces will play all of its home games at the TD Place Stadium, home of Canadian Football League's Ottawa Redblacks and Canadian Premier League's Atletico Ottawa.
The chair of the RFL, Simon Johnson, stated: "I was delighted to be present at the TD Place Stadium for the launch of the Ottawa Aces and to confirm that the Aces will enter our competitions in 2021."
The move is similar to Toronto Wolfpack's acceptance into RFL's system as the side, who recently achieved promotion to the Rugby Super League, also started in the third tier of the pyramid. 
Johnson continued: "It has been a long journey to get to this point, and I congratulate Eric Perez and his partners and investors for their commitment and vision to relocate the Hemel Stags to become the Ottawa Aces, along with the wishes of the Championship & League 1 Clubs.
"That reflects the benefits to our competitions and clubs from the progress of Toronto Wolfpack through League 1 and the Championship over the last three years.
"In Rugby League's 125th year, as we celebrate the rich heritage of this sport, the introduction of Ottawa Aces to the competition allows us to look to a colourful, expansive and global future. They will bring a new and passionate audience to our great game. The wonderful facilities here in Ottawa will bring an exciting new element to the Betfred League 1 next season."
As Johnson mentioned, Ottawa Aces will be run by Eric Perez, a major player in Toronto Wolfpack's admission into the league in 2016. Perez still holds a minority stake in the newly-promoted side, however that should not cause any potential integrity issues.

Perez emphasised: "I was looking for a Canadian destination, a place to be a rival for the Wolfpack, to build on its success.
"I felt like this was the perfect next step for the RFL – everyone knows Toronto vs. Ottawa is a massive rivalry. Our goal is to one day do what (the Wolfpack) did and make it to Super League. We'll do it with patience and hopefully some homegrown talent."

As part of the deal, Ottawa Aces will pay for travel expenses of all teams needing to play in North Americas.