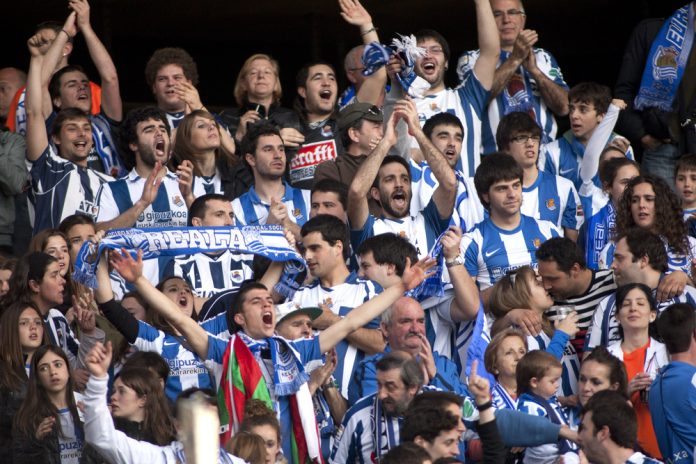 In a bid to boost partnerships and enhance matchday experiences, Real Sociedad has announced it will be trialling near-field communication (NFC) technologies when La Liga football returns. 
As reported by SportsProMedia, the news comes as the side and football clubs across Europe seek to maximise fan engagement opportunities when the sport resumes, in order to make up for the extended period of no football due to the COVID-19 crisis. 
The innovative technology, which officially began being trialed in January, allows fans to redeem discounts on food and beverage purchases at the team's Reale Arena stadium via the scanning of a 'smart tag' on the club shirt, which connects with the mobile app. 
Real Sociedad's head of digital transformation and innovation, Juan Iraola, who spoke at the SportsPro Insider Series, stated that the NFC technology is part of the club's strategy to change its kit sponsorship model, enabling fans and partner brands to connect via new activations.

He said: "The objective is to change, a little bit, the sponsorship model connected with the kit. Right now, we have to attract big brands to pay big money for TV audiences."
"Besides this, we try to connect brands, whether international or local, to promote their product. We have right now a huge inventory of digital assets full of fans and empty of sponsors. What an incredible paradox because, right now, the stadium is full of sponsors and empty of fans."
La Liga clubs are expected to start training this week in preparation for a potential restart of the competition, however, it is unlikely to be some time before fans are allowed back into the stadium and Sociedad are able to use this new technology.
Nevertheless, the new project marks the efforts clubs continue to make in order to change and evolve matchday experiences, with a whole host of sports organisations opting to go cashless in its stadiums. 
Insider Insight: Whilst the NFC trials aren't going to have any major short-term significance to matchday experiences due to games being behind closed doors, the club will still be able to use the technology to enhance its potential sponsorship opportunities next season. The trials also highlight how clubs are now relying on data and technology to develop brand partnerships whilst also delivering a modern marketing model.