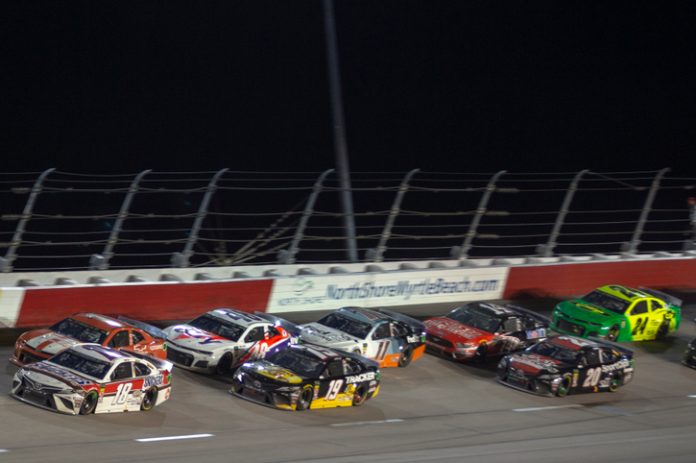 NASCAR's much-anticipated US return garnered an average of 6.32m viewers on the FOX broadcast network, an increase of 38 per cent from the competition's previous race more than two months ago, according to data from Nielsen Media Research.

The impressive domestic viewing figures of NASCAR's Real Heroes 400 at Darlington Raceway highlighted how fans have missed live sporting events in the country. Specifically, the 18-34 age demographic saw a 47 per cent viewership increase from the last NASCAR race.
Mike Mulvihill, Fox Sports executive vice president and head of strategy, tweeted: "Nascar audience showed up early and hung around for a long time yesterday (Sunday).
"The audience at 4pm was the same as it was for the entire race (6.3m). That's really rare."
The competition's Cup Series is also the second most-watched NASCAR event since March 2017, with February 2020's Daytona 500 season-opener garnering an estimated 7.3m viewers.

According to Mulvihill, the NASCAR Cup Series now averages at 5.83m viers for the season-to-date, which is a two per cent decline from last year. However with a ten-week season postponement and a rained out Daytona 500, along with impressive figures in NASCAR's restart, the Fox Sports executive remains positive for the foreseeable future.
During the lockdown, NASCAR had turned to the virtual track in order to retain fan engagement while its competitions were postponed. While the impact of the eNASCAR iRacing Pro invitational Series cannot be proved, the competition did captivate certain fans with its debut race attracting over 900,000 viewers at the end of March.
Ultimately, the audience figures will be pleasing to NASCAR organisers as the organisation commences its restart plans which include hosting seven races in 11 days beginning with the Real Heroes 400 event. 
Despite the global health pandemic, the association has assured its fans that it intends to run a full 36-race NASCAR Cup Series in 2020. However, dates after 27 May have yet to be officially confirmed.