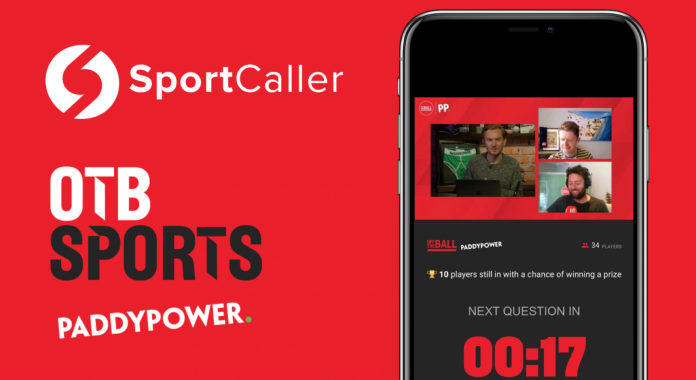 Irish media company Off The Ball has collaborated with free-to-play sports game provider SportCaller to create a series of live broadcast quizzes, in an attempt to drive audience engagement during the current sporting shutdown.

The partnership, which is the first of its kind with a multi-platform sports media company, will see SportCaller utilise its 'last-man-standing mechanic', in which players must submit each answer before a clock-count winds down, with correct answers progressing to the next question. 
Off The Balls live quiz will include a 'topical schedule of flagship events' relatable to the time of year, whilst also incorporating general knowledge questions from all Major sports. Players who post a perfect score across the quiz can claim the €1,000 prize, which is either won or shared between any number of participants.
Additionally, SportCaller's decision to partner with Off The Ball highlights the firm's strategy to branch out of its sports betting arena, connecting with more mainstream audiences.
Cillian Barry, MD at SportCaller, stated: "We're thrilled to be breaking new ground with Off The Ball via these new Live Broadcast quizzes, showing that now is the time to be pushing fresh concepts and products for our increasingly diverse range of clients. They say that personality goes a long way and OTB has it in spades. As a result, the SportCaller platform is another conduit by which OTB can express the content of that character to a loyal, sports-mad audience looking for some light relief.
"Clearly, you're never going to replicate the same levels of engagement until all live sports can reliably find a way back. However, we can still offer fun, thematic content with these simple FTP games which build brand loyalty and an audience which returns to watch, listen and play. I believe this represents another key proving ground outside our original sportsbook domain, with these quizzes helping to fashion a wider and improved marketing mix."
Off The Ball's live quizzes will be fronted by the media companies regular host Ger Gilroy and will be regularly joined by household names including Brian O'Driscoll and Kevin Kilbane. Moreover, the show will be sponsored by Paddy Power, a firm which had previously partnered with ShotCaller for its Beat The Drop game which launched at the 2018 World Cup.
Ger Gilroy, Managing Director of Off The Ball, added: "It's imperative that we keep our viewers and listeners entertained across our live radio and podcast channels, despite many of their favourite major sports still being unavailable. Happily, SportCaller's innovative quizzes are allowing us to open up another outlet of competitive fun and social enjoyment for our enthusiastic audience.
"Their games fit neatly into our programming schedule and check all the boxes for responsible engagement. We're always looking for new experiences to better connect our viewers to the sports they love, and SportCaller's creative-content ideation and swift tech integration set them apart."