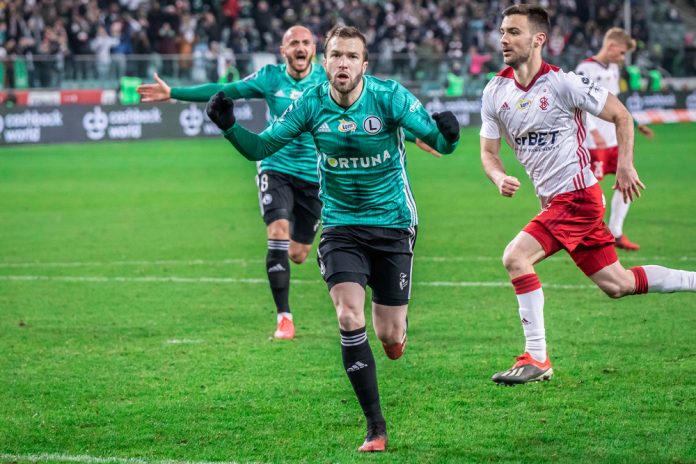 Poland's top flight football league the Ekstraklasa has signed a Balkans media rights agreement with Arena Sport.
Arena Sport will provide coverage of the league over its six channels until the end of the 2020-21 season in Serbia, Bosnia and Herzegovina, Montenegro, Slovenia, North Macedonia and Kosovo.
The firm is the second broadcaster in the Balkans region to forge an agreement with the Ekstraklasa, following Planet Sport's two-season agreement signed at the start of the 2019-20 campaign. Planet Sport will continue to provide coverage of Polish football in Croatia.
"There are about 40 players from the Balkan countries in the teams of PKO Bank Polski Ekstraklasa and Balkan fans keep following their and their Polish clubs' results," said Marcin Animucki, President of the Ekstraklasa Management Board.
It's one of the reasons we want to show the matches on TV. For the spring round we have started working with a broadcasting partner with a strong presence in the region and with an offer including the European football at its best. 
Also the top tier football league of Poland will now be joining the schedule of this broadcaster. Arena Sport is widespread in all of its territories, which means that Ekstraklasa will have a guarantee of reaching the widest possible audience. 
At the same time, Planet Sport remains our exclusive partner in Croatia".
The 2020-21 season of the Ekstraklasa has been reduced to a total of 30 matches, and although some spectators are permitted the stadiums are largely empty due to the COVID-19 pandemic. Legia Warsaw are the current defending champions, having claimed a 14th national title in 2020.
The league has also renewed its agreement with IMG Arena, the sports betting department of the IMG sports media agency, for another four seasons until the culmination of the 2024-25 season, having first formed a partnership in 2016.
Nebojsa Zugic, Director of TV, Arena Sport, added: "The Polish Ekstraklasa is a very exciting national football championship. Spectators in the Balkans watch the matches of the Polish championship with great interest, because the games are often uncertain, there are a lot of derby matches. 
"Polish football will additionally gain in popularity and promotion in this area, while TV Arena Sport users will get the opportunity to watch quality matches with Legia, Pogo, Wisla, Lech, Zaglebie, Jagiellonia and other teams."
In addition to the Ekstraklasa, Arena Sport provides coverage of Italy's Serie A, France's Ligue 1 as well as the Champions League and Europa League, and will begin broadcasting Spanish La Liga fixtures from next season.