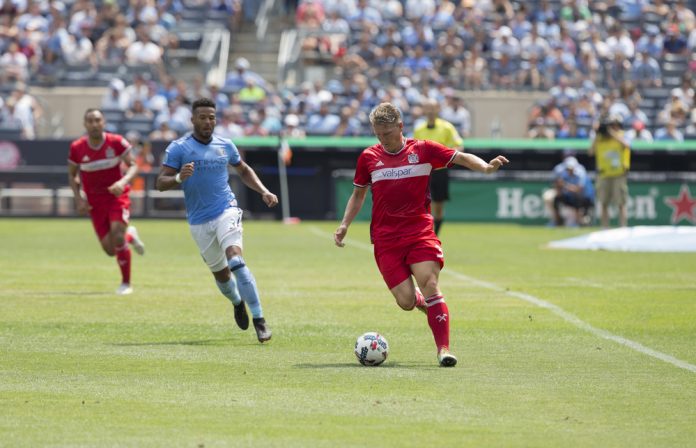 Major League Soccer (MLS) franchise Chicago Fire FC has become the first team from the league to launch a problem gambling and sports betting integrity initiative.
The football club has formed a partnership with Epic Risk Management, a responsible gambling organisation, in addition to Entain, one of the world's largest international betting operators and owner of well known brands Ladbrokes, Coral and co-owner of BetMGM.
Epic will lead sessions with the club's first team in addition to the under-19s down to the under-13s squads, with each session specifically designed for the requirements of the audience and age groups, covering topics such as sports betting integrity, problem gambling and disordered gambling.
"We know that young athletes are at greater risk of being affected by problematic gaming and gambling, and we recognise the need to take a proactive approach to educating our players and parents on these risks," said Brian Roberts, Director of Performance, Advisory and Support Services at Chicago Fire.. 
"The real-life stories that Epic Risk Management use in their educational sessions brings focus to gambling in a way that will have a true impact and will provide our Academy players with the understanding needed to make informed decisions. We are excited to work with an organisation open to customising an approach to educating our Academy players."
The triple agreement will come into effect in May and continue throughout the remainder of the year, providing continued support across Chicago Fire's PASS programme. 
Sessions will be conducted via videoconference initially and move to in-person interactions as lockdown restrictions in the US ease.
"This new partnership among Chicago Fire FC, Epic Risk Management and the Entain Foundation US is another important milestone in promoting player protection and responsible gambling – a top priority of our Foundation," added Martin Lycka, Entain's Senior Vice President for American Regulatory Affairs and Responsible Gambling, and Trustee of the Entain Foundation US. 
He concluded: "I am proud to affiliate our Foundation in the US with these two outstanding partners."
The new deal represents an expansion of Epic and Entain's partnership, with the duo having collaborated with the NFLPA Professional Athletes Foundation and a range of collegiate athletic teams across the US.
Additionally, the two firms have supported the Division on Addiction at Cambridge Health Alliance, a Harvard Medical School teaching hospital, on research into elite athletes' relationships with problematic gambling behaviour.
John Millington, Vice President of US Operations at Epic Risk Management, also remarked: "We are delighted to be able to work closely with Chicago Fire and their performance, advisory, and support services staff to customise our program to integrate into their existing PASS Education.
"Our collaboration with the Entain Foundation US represents a key strategic piece of our prevention pillar. It is essential that professional sports teams and leagues recognise a collective responsibility to educate their players, staff, and their fan base, and we are delighted Chicago Fire have proactively embraced the importance of integrating this market leading education into their existing programmes. I hope many more teams will follow their lead."